Rams clear Gurley to practice but RB won't play in preseason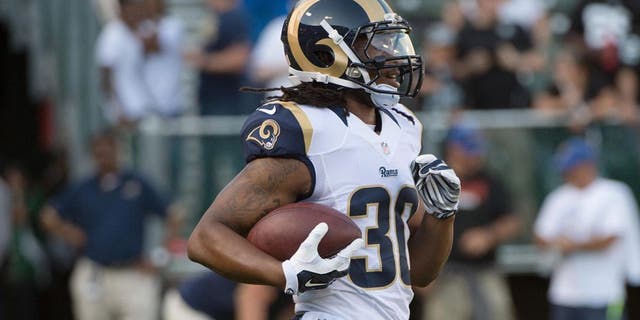 ST. LOUIS -- Todd Gurley has been cleared to practice with the St. Louis Rams, but the 10th overall pick in the draft still won't play in the preseason.
Without him, the first-team offense has mustered three points in two games. Coach Jeff Fisher is not concerned, adding he thought the starters looked good practicing against the Cowboys for two days last week in Oxnard, Calif.
"You guys all ask me the same questions: 'What's up with your offense?'" Fisher said Monday. "We keep it basic.
"Our offense is coming, it's coming."
Part of the problem may be too much time on the road, a self-inflicted wound. The Rams have had one practice at home since playing the preseason opener at Oakland.
"The bottom line is this: We need to have a great week of practice and we need to play well," Fisher said. "We'll have some normalcy to our week."
Mostly. Perhaps to keep players on their toes, the Rams have three different starting times for practices this week -- 4:15 p.m., 3:30 p.m. and 5:30 p.m.
Fisher said he'd be patient with Gurley, rehabbing from left knee surgery that ended his college career. Gurley has been working in individual drills and now will progress to seven-on-seven and team segments.
"We'll take it slow, but it's going to be fun to get him on the practice field," Fisher said. "He had a blast in the warmups last night and then his fun stopped when the game started because he wanted to play, but he understands the situation."
Gurley will be wearing a brace. The running back was cleared after the Rams forwarded testing results to Dr. James Andrews, who did the surgery.
"He may need a day off here and there, but it's good news," Fisher said. "Dr. Andrews was really pleased with his progress, so he's cutting him loose."
Wide receiver Brian Quick, rehabbing from shoulder surgery, could make his preseason debut Saturday against the Colts. He's been wearing a yellow beanie over his helmet, signifying no contact.
Tre Mason and Benny Cunningham are expected to share the running back duties if Gurley isn't ready for the opener Sept. 13 against the Seahawks. Mason was the starter most of his rookie season.
The pair has combined for 40 yards on 14 carries.
Fisher said Trey Watts, suspended for the first four games for violating the league's substance abuse policy, will keep getting plenty of work in the preseason. Watts had six carries for 53 yards and three catches for 46 yards against Tennessee.
"He's going to continue to run the ball the next two games," Fisher said. "We're all disappointed; we addressed that."
Fisher has no complaints about new quarterback Nick Foles, who's just 6 for 12 for 87 yards and had an interception returned for a score against Tennessee. On the interception by Perrish Cox, Foles locked on to wide receiver Kenny Britt, and Britt didn't help with indifferent route-running.
"Nick wants that ball back, he'd love to have that ball back," Fisher said. "That wasn't a good decision by Nick."
Foles said he learned a valuable lesson: "Next time you see that, you throw it over their head. That's what the preseason is great for, situations like that."
The defense that's expected to carry the team had some holes, too. The Rams trailed 20-0 at the half.
"There were a couple missed tackles and a couple of guys not in their gaps," end Chris Long said. "When it counts in a couple of weeks, we'll be even more tightened down."
Rookie offensive lineman Cody Wichmann (calf) was taken off the PUP list and also is expected to practice Tuesday.