Rajon Rondo on Karl prank: 'I don't think' I'm a disruptive force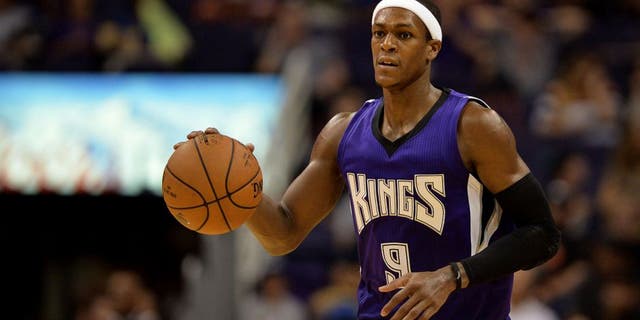 NEWYou can now listen to Fox News articles!
Oct 7, 2015; Phoenix, AZ, USA; Sacramento Kings guard Rajon Rondo (9) dribbles the basketball up the court in the second half against the Phoenix Suns at Talking Stick Resort Arena. The Suns defeat the Kings 102-98. Mandatory Credit: Jennifer Stewart-USA TODAY Sports Jennifer Stewart USA TODAY Sports
When he placed his tongue firmly in cheek and drolly joked that his relationship with coach George Karl wasn't going too well, Sacramento Kings point guard Rajon Rondo fooled a number of people into thinking he was being serious (and that includes us, if we're being honest). But those who got caught up in Rondo's joke (again, that includes us) defended their foolishness with a common refrain: Can you really blame us, given Rondo's history with coaches?
It's something that was posited to Rondo at a recent practice, where he was asked if he feels like he needs to "prove" that he's not a disruptive force. And according to the Sacramento Bee, Rondo couldn't be less bothered by the notion:
"I don't think that's the case," Rondo said of the perception. "You don't hear that coming from my teammates. Everybody has an opinion like everybody has an ... My family and people that are close to me, my teammates knows what kind of teammate I am and that's what it's all about. That's all that matters to me."
While Rondo has a point, those "couple of bad press reports" haven't exactly been much ado about nothing. Rondo's time with the Dallas Mavericks last season clearly frustrated head coach Rick Carlisle. But his time in Sacramento is something entirely new, and the 2015-16 season is all that matters right now for Rondo and the Kings.
MORE NEWS: Want stories delivered to you? Sign up for our NBA newsletters.