Rain or shine, Watkins Glen swings door open wide for underdogs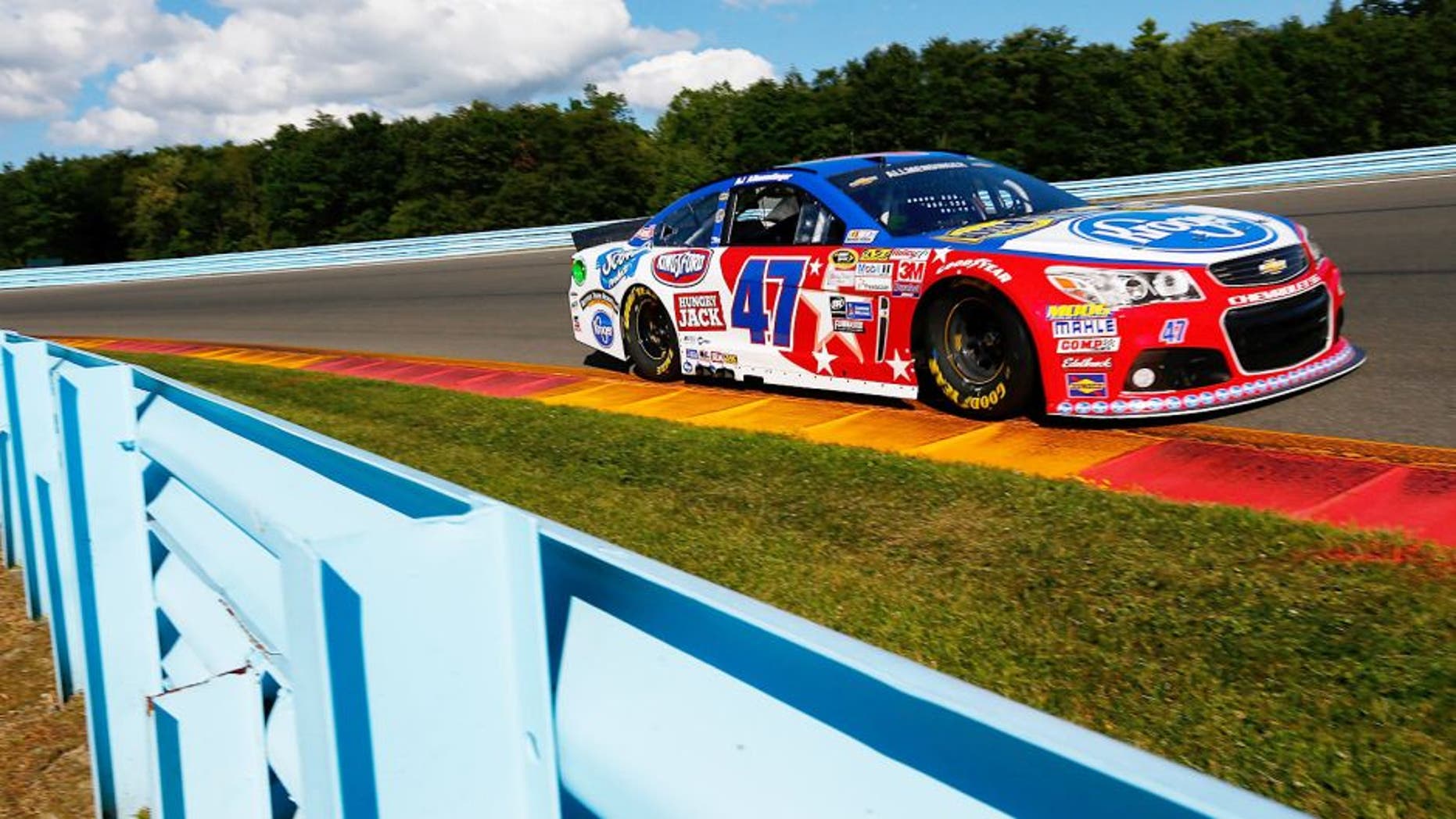 There was a time not all that long ago when the restrictor-plate races at Daytona and Talladega were viewed as the only real opportunities for an underdog to get a win in the Sprint Cup Series.
But nowhere on the schedule is the proverbial door to Victory Lane swung open any wider these days than Watkins Glen International, the second of two road courses on the Sprint Cup schedule.
In the last five races at Watkins Glen, the winner has been a driver who has never prevailed on an oval before or since. That means Sunday's Cheez-It 355 at The Glen is just what the doctor ordered for a driver who hasn't won this season, needs a win to make the Chase for the Sprint Cup, and likely won't have another real chance to get to Victory Lane before the Chase begins next month.
Chief among those looking to take advantage and seize the day is Sunday's pole-slitter, AJ Allmendinger, who scored his first and only career win to date last year at Watkins Glen, and with it earned a Chase berth.
How much pressure does Allmendinger feel going into Sunday's race, knowing that it's his best -- and likely only -- opportunity to get to the Winner's Circle in the five races that remain before the playoffs?

"There isn't any more pressure than I put on myself," said Allmendinger, who sits 23rd in the standings and has no realistic shot to make the Chase based on points. "These guys deserve it. I want to lift them on my shoulders and carry them to Victory Lane. Last year was special and it just makes you want to do it more and more."
In a similar predicament to Allmendinger is three-time Sprint Cup Series champion Tony Stewart. In the midst of his worst season ever from a performance perspective, Stewart has qualified in the top five for three consecutive weeks but has yet to score a top-five finish all season. Although it's possible that he could win one of the other four races before the Chase, Watkins Glen -- where he's a four-time winner -- likely represents his best chance.
Stewart rolls off third on Sunday.

"That is an awesome way to start the weekend for sure," the veteran driver said after Saturday's qualifying session. "I thought we had a decent day yesterday. Today is even better. Hopefully, we can get our race package a little bit better for tomorrow, too."
Although those drivers needing a win to get in the Chase clearly have a bit of extra incentive to go all-out on Sunday, Allmendinger doesn't expect added motivation to be a factor in the outcome at the 2.45-mile road course.
"The thing I've learned about the Sprint Cup Series is it doesn't matter whether somebody needs a win or not," Allmendinger said. "If the opportunity is there, he or she is going to go out there to do whatever they can to get the win. It's no different than last year.
"The only difference is having the confidence that if it comes down to crunch time like that, I'm able to go out there and make it happen."
Other drivers who typically fare well on road courses and could use a win to solidify their Chase future are Jeff Gordon, Kyle Larson, Clint Bowyer and Kasey Kahne. Jimmie Johnson has four wins this year and is already locked in the Chase, but wants to win at The Glen because it's one of the few remaining tracks where he has yet to break through.
"I love road-course racing," said Johnson, who does have a win at Sonoma, the Sprint Cup Series' other road course. "I grew up not doing the same thing, but a similar aspect of racing, and I truly enjoy it. I wish that I had more victories in the road-course column, and I'd really love to get one here and knock one of those tracks off the list that I haven't won at yet."
One of the biggest variables on Sunday afternoon is the possibility of racing in the rain. Although the forecast calls for only the slightest chance of wet weather, teams are equipped this weekend with rain tires, and all the cars have windshield wipers and a safety light inside their rear window to accommodate racing in inclement conditions.
It would be the first time in history that a Sprint Cup Series race has been held in the rain, although the XFINITY Series has competed in the wet.

"I'm actually praying for rain on Sunday," Stewart said. "I don't know why, but I have my heart set on racing in the rain at The Glen, so I'm hoping somewhere in the equation we can figure out how to make it rain."
Dale Earnhardt Jr., one of the drivers locked in the Chase, shares Stewart's sentiment on wanting to go racing in the wet.
"That would be crazy," NASCAR's most popular driver said. "I've never raced in the rain, and a lot of guys haven't, and I'm excited about that opportunity to do that. That would be fun."
So would winning -- especially for the drivers whose Chase lives probably hinge on what happens Sunday.