QB situation tops five burning questions for Louisville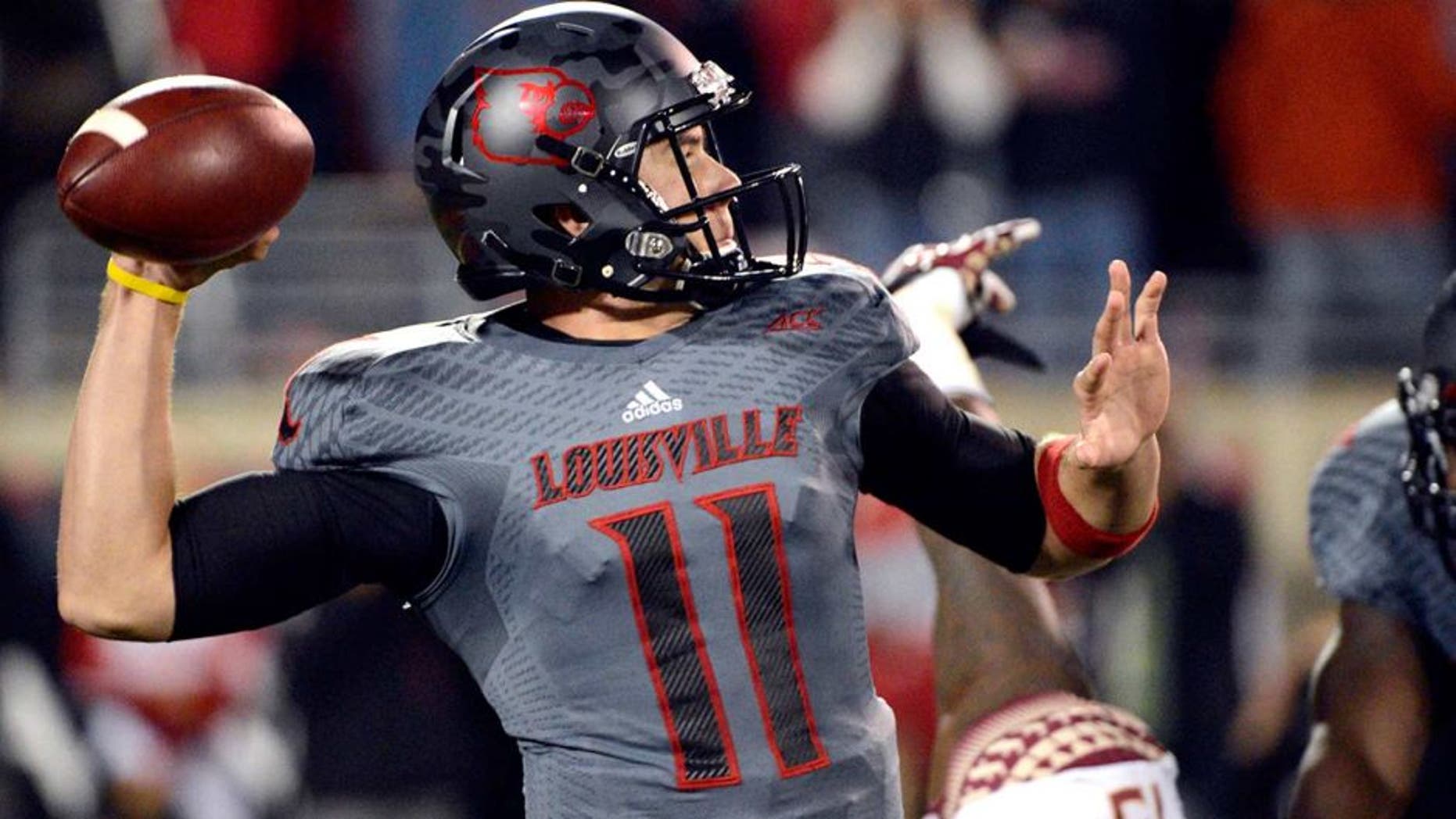 After a successful first season in the ACC in which Louisville won nine games, the degree of difficulty will increase in the second year of Bobby Petrino's second go-around with the Cardinals.
The schedule isn't kind, as they'll face Auburn and Clemson within the first three weeks and have plenty of issues at key spots on both sides of the ball.
What's in store for Louisville in 2015? The answers to these five questions should tell us.
1. Who is the answer at QB?
Given Petrino's offensive pedigree, there's obviously no position more critical to the Cardinals' success -- but do they have the right guy in Will Gardner?
In a five-player race for the position, het had his third knee surgery after last season. Gardner is coming off a year in which he led Louisville in throwing for 1,699 yard and 12 TDs while missing five games. But he also completed just 57.5 percent of his passes.
Reggie Bonnafon, a sophomore, impressed this spring with 238 passing yards, 37 yards rushing and two touchdowns. He made five starts as a freshman and in the win over Notre Dame had 180 yards passing, 35 rushing and three scores. If Petrino wants to go dual-threat, and given uncertainty elsewhere that wouldn't be surprising, Bonnafon may win out.
Kyle Bolin, Lamar Jackson and Tyler Ferguson are also in the mix. Bolin threw for 381 yards and three scores vs. Kentucky and another 300 yards and a TD against Georgia in the Belk Bowl.
2. And who is that QB going to be throwing to?
James Quick arrived in Louisville as the highest-rated recruit the program had ever signed. But entering his junior year he hasn't lived up to that hype.
While he had 566 yards and three scores last year on 36 receptions, that came with DeVante Parker stealing most of the attention and double teams from defenders.
He did have a solid spring game with seven catches for 127 yards, a strong sign given Petrino moving him inside as a slot receiver. But is going to be pushed by a pair of transfers in Jamari Staples, who had 31 receptions for 458 yards and four scores last year at UAB, and Texas A&M defection Ja'Quay Savage.
3. Can the Cardinals avoid a losing September?
It's going to be a difficult month for Louisville with two highly ranked opponents as it opens vs. Auburn (No. 7 in coaches' poll) in Atlanta, then Houston and Clemson (12th) before facing Samford.
Both sets of Tigers may be too much for the Cardinals, and the Cougars should be improved with Tom Herman at the helm and with Auburn a week earlier and Clemson five days later on Thursday, it's a dangerous matchup for Louisville. That could mean Samford might be its first shot at a win if the Cards can't deliver an upset or take care of Houston.
Florida State on Oct. 17 is the only game that seems truly daunting, so even a 1-3 or 2-2 September wont' sink the Cardinals' season, and that opening stretch includes just one ACC game.
Of course, Louisville could turn around and make a major statement by winning against either of those ranked opponents, but chances are they'll be looking to regroup after this stretch.
4. Is this the season's most impactful group of newcomers?
The Cardinals ranked sixth in the nation in total defense last year, allowing 308.5 yards per game. It was a surprising turn by the offensive-minded Petrino, but to follow that up they'll have to replace seven starters.
That may not be much of a problem, with Devonte Fields, who was once the Big 12 Defensive Player of the Year at TCU stepping in at defensive end.
Meanwhile, a secondary that was hit hard by defections includes Georgia exiles Josh Harvey-Clemons at safety and cornerback Shaq Wiggins.
Todd Grantham surprised in Year 1, and this season could have an even better defense with a front seven that improves with the arrival of Fields and experience in the backfield.
5. Louisville's most pivotal game?
If that early analysis hold true and the Cardinals exit September at or below .500, they'll no doubt be eyeing that trip to Tallahassee as one that will decide their fate in the Atlantic Division.
There's a distinct separation in that part of the league, with the Tigers, Seminoles and then everyone else. But Louisville certainly seems like the most talented of that next tier, though they figure to be pressed this season by NC State.
That puts the real focus for the Cardinals on their Oct. 3 date in Raleigh. It's not a game Louisville can afford to drop, especially with Florida State a week later and coming off that difficult September.
If Louisville figures to be that solid No. 3 behind the Seminoles and Clemson, a lot will hinge on how well they perform vs. the Wolfpack.
Follow Cory McCartney on Twitter @coryjmccartney