Prosecutors seek 2-year prison sentence for Neymar in transfer fee corruption case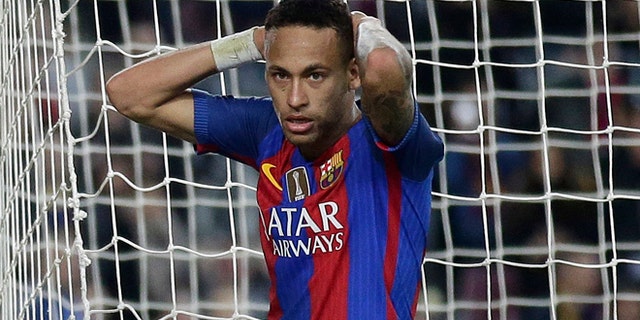 NEWYou can now listen to Fox News articles!
MADRID (AP) – Spanish prosecutors are seeking a two-year prison sentence and a $10.6 million fine for Neymar on corruption charges because of alleged irregularities during his transfer from Brazilian club Santos to Barcelona.
Prosecutors said Wednesday they are seeking the same punishment for Neymar's father and former Barcelona president Sandro Rosell. Rosell is facing an additional three years for fraud charges.
They are all set to stand trial after a complaint brought by Brazilian investment group DIS, which was entitled to 40 percent of Neymar's transfer from Santos in 2013 but said it received a smaller compensation because part of the transfer fee was concealed.
A judge this month also accepted fraud charges against Barcelona, Santos and a former president of the Brazilian club, Odilio Rodrigues.
Rodrigues will face a three-year prison sentence, while prosecutors seek a fine of $8.9 million from Barcelona and $7.4 million from Santos.
Prosecutors also want a 1-year prison sentence and a $10.6 million fine for Neymar's mother, who co-owns one of her husband's companies. Prosecutors want the company to pay a fine of $1.4 million.
Prosecutors also said Rosell, Rodrigues, Barcelona and Santos must repay nearly $3.4 million to DIS.