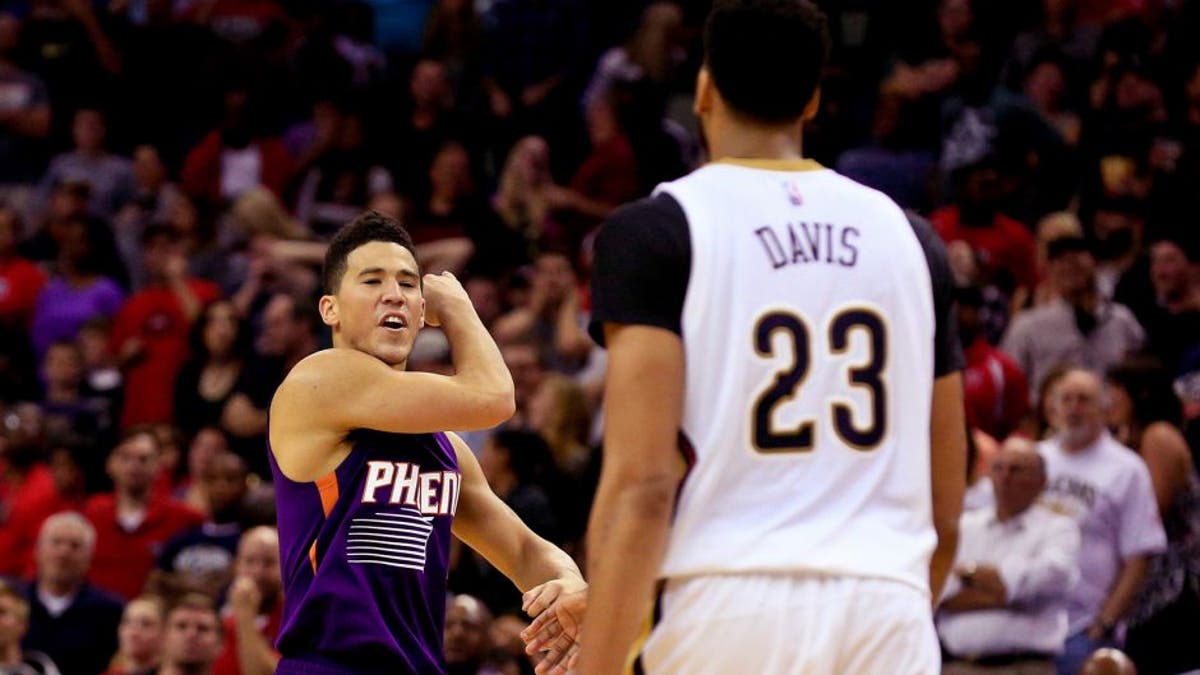 NEW ORLEANS -- The New Orleans Pelicans and the Phoenix Suns both are hoping for some temporary relief from difficult seasons when they meet on Monday night at the Smoothie King Center.
The Pelicans (19-32) have lost four in a row and five of their last six. The Suns (16-35) have dropped six of their last seven.
The Suns got a stunning performance from guard Devin Booker on Saturday night against Milwaukee -- he scored 27 of his game-high 31 points in a 7:14 span of the second quarter to whittle a 25-point deficit to eight at halftime -- but Phoenix had no defensive answers for the Bucks in a 137-112 loss.
Booker, a second-year guard out of Kentucky, was held to just four free throws in the second half, but coach Earl Watson said he knows this is just the beginning of big things for his second-year guard.
"What you're seeing right now is a player who, during that stretch, reminded me of Kobe (Bryant)," Watson said. "I'm just being honest with you. What he did was pretty impressive. And the fact that he's only 20, he still hasn't gotten into his grown-man strength yet. Eventually, he will."
Booker scored Phoenix's final 17 points of the second quarter. He made 9 of 11 from the field, including 5 of 5 from 3-point range and all four free throws.
"It's just that zone," Booker said. "If you play basketball long enough, a lot of people get in that zone. It would've been better if it could've lasted longer."
Booker has now put together a streak of 16 games with 20 or more points -- five short of Tom Chambers' franchise record.
The Pelicans have some concerns about the health of their young phenom, All-Star forward Anthony Davis. He tweaked his lower right leg in a 105-91 road loss on Saturday night to the Washington Wizards late in the first half and limped through the rest of the game.
Although Davis continued to play after the first-half injury, finishing with 25 points and 10 rebounds, he was held scoreless in the fourth quarter, during which the Pelicans scored a total of eight points and were held scoreless in the final 5:50.
Davis had been dealing with a right thigh bruise, but now he's also battling an injury to the lower right leg.
"At halftime we talked about it," said guard Tyreke Evans. "It looked like he might have pulled something, but he loves the game so much, he does not want to come out. He wants to play but could not really move how he wanted to."
Fourth-quarter woes have been prominent in the Pelicans' consecutive road losses to Detroit and Washington. In the two games, they have been outscored 60-25 in the fourth quarter.
Throw in a 12-2 deficit to begin the Washington game -- when the Pelicans committed four turnovers on their first five possessions -- and it was a recipe for disaster and for coach Alvin Gentry's growing frustration.
"Do you want me to really answer or do you want me to give you alternate facts?" Gentry said when asked what had happened. "It was an inability to play the right way. That's what it was -- scoring, defending, staying within the game plan.
"We've gone over it a hundred times. At practice we must have said it 20 times -- we cannot turn the ball over against John Wall. He's a one-man fast break. We did it at the beginning of the game and we did it at the end, and that's the result. That's what you get. You don't score the last five, six minutes of the game, probably you're going to lose the game."
The Pelicans and Suns have split their first two games this season, both going to overtime, with each team winning on the other's court. Pelicans reserve guard Tim Frazier, who has played little in recent weeks, had a triple-double off the bench (14 points, 11 rebounds and 11 assists) in a 120-119 New Orleans victory on Dec. 11 in Phoenix. Booker has averaged 27.0 points on .514 shooting in the two games against New Orleans.