Preview: Rays look to break .500 in weekend series vs. A's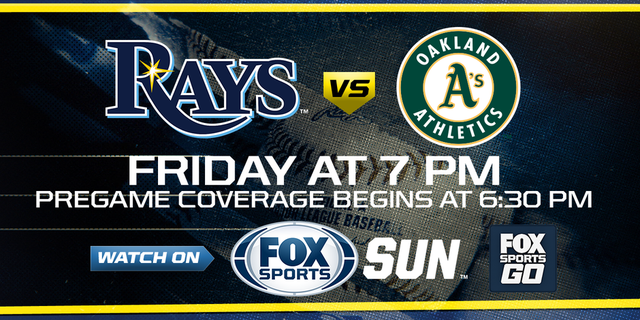 NEWYou can now listen to Fox News articles!
TV: FOX Sports Sun
TIME: Coverage begins at 6:30 p.m ET
The Tampa Bay Rays climbed back to .500 for the 18th time this season after taking two of three against the Chicago White Sox, but manager Kevin Cash is ready for his team to take another step forward.
The Rays will have a chance to get over the .500 hump with a four-game weekend set against the Oakland Athletics.
"I don't (care) about .500 and I'm sick of talking about it," Cash said. "(This series) is big. We need to find a way to win some ballgames and do it consistently and get on a run. This team is capable of getting on a run; we just need to have a lot of things go right for us."
Right-hander Alex Cobb (4-5, 4.52 ERA) will get the start for Tampa Bay on Friday on additional rest, like the rest of the Rays' rotation has had this week.
Although Cobb feels like there has been a little bit too much made of getting additional rest, he concedes that every pitcher will need it at some point during the season and it could be crucial as the season hits the stretch run.
"If you ask me right now -- do I need an extra day? -- I'd say no," Cobb said. "But looking toward the future and knowing what we know, not pushing it early on in the season really helps out later in the season and really helps prevent injuries. I think it's the smarter way to go about it."
The Rays are likely to be without center fielder Kevin Kiermaier on Friday and it could be an extended absence after he suffered a right hip injury during Thursday's game. Kiermaier was removed after the fifth inning and was on crutches after the game.
"I'm going to get further testing done (Friday) and see where to go from there," Kiermaier said. "Just sore right now. I'll see what it feels when I wake up. Once I tried walking, I knew I was going to have to come out of the game. You always see bad things when people slide into first base, but I'm just trying to keep the inning alive right there."
The Athletics (26-33) will counter with right-hander Andrew Triggs (5-5, 3.36 ERA), who has lost his past three decisions. Triggs was shelled for six runs on nine hits in 3 2/3 innings in his last start against the Nationals, June 2. He gave up four runs in the fourth against Washington and expressed frustration with giving up the big inning.
"That's three outings in a row where we've either tied it or taken a one-run lead and I've given it right back," Triggs told the San Jose Mercury News. "You need a shutdown inning and I didn't deliver again."
Triggs has never had a start against the Rays but did make a relief appearance last year and gave up a run in two innings. Cobb is 3-2 with a 2.44 ERA in seven career starts against Oakland.