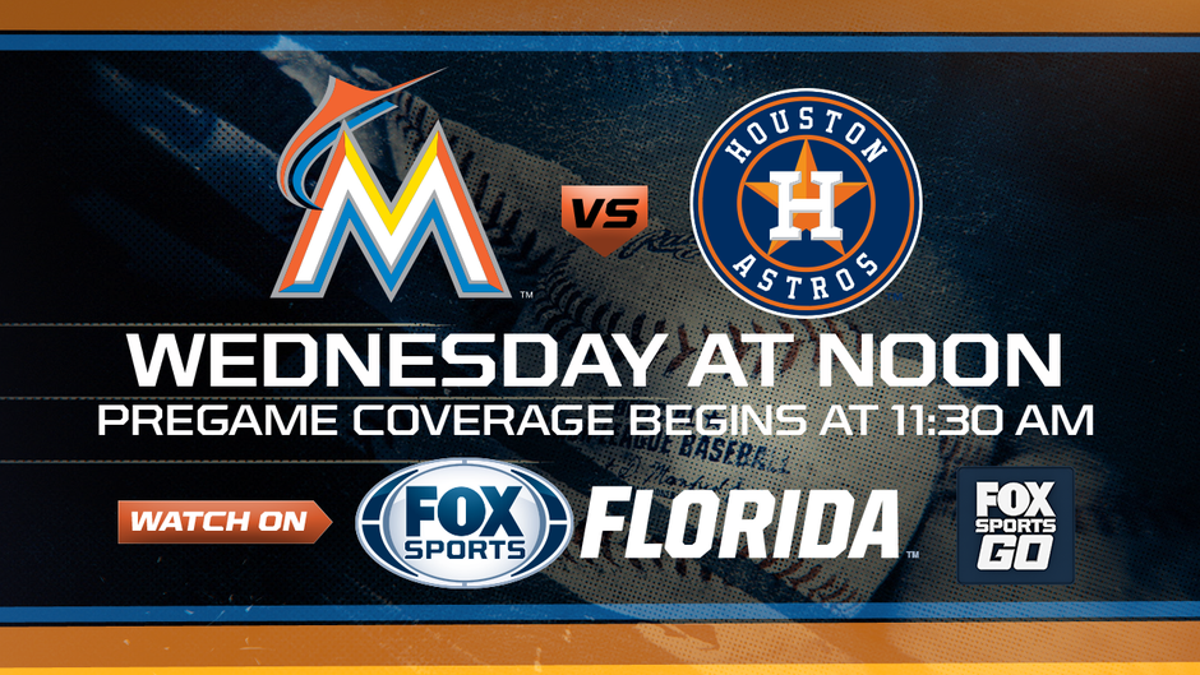 TV: FOX Sports Florida
TIME: Pregame coverage begins at 11:30a.m.
MIAMI -- In eight days, the Miami Marlins have demoted two starting pitchers to Triple-A New Orleans, including 30-year-old right-hander Tom Koehler, who was sent down after a 12-2 loss to the Houston Astros on Tuesday.
This is what losing looks like.
Heads are rolling for the Marlins (14-24), who have lost 16 of their past 20 games, are in last place in the National League East and own one of the two worst records in the majors.
Meanwhile, the Astros, who have the best record in baseball at 28-12, will go for their first three-game sweep of the season on Wednesday against the Marlins.
The teams are polar opposites. The Astros have won six consecutive series while Miami will end its homestand on Wednesday with either a brutal 2-7 or 1-8 record.
The Wednesday pitching matchup features Astros right-hander Lance McCullers (3-1, 2.98 ERA) against Marlins right-hander Jose Urena (1-1, 1.98).
McCullers, a Tampa, Fla., native, has gone two consecutive starts -- a total of 13 innings -- without allowing an earned run.
"He's the real deal, man," Astros catcher Brian McCann said after McCullers pitched six scoreless innings Friday against the New York Yankees. "He's a top-of-the-rotation guy. I feel he's going to keep getting better and better."
The 2012 Gatorade National Baseball Player of the Year out of Tampa's Jesuit High School, McCullers got a $2.5 million signing bonus after being the 41st player selected in the draft that year.
He made his major league debut on May 18, 2015, so that means Wednesday completes his second full year in the majors. So far, McCullers is 15-13 with a 3.18 ERA in 44 starts.
Urena, 25, also made his major league debut in 2015. However, the Dominican native hasn't had anywhere near the success of McCullers. For his career, Urena is 6-15 with a 5.16 ERA, and he has bounced back and forth between majors and minors.
This year, though, has been Urena's best, at least so far. His first six appearances were made in relief. Urena has since made back-to-back starts totaling 12 innings in which he has allowed a total of just two runs (1.50 ERA).
The pressure is on Urena and all of the Marlins' starters given what happened to Koehler, whose ERA exploded from 5.60 to 7.04 after he allowed eight runs in three innings on Tuesday.
Before Koehler, it was left-hander Adam Conley who was sent to New Orleans last week.
Koehler took his demotion hard.
"I put our team in a hole," Koehler said. "It was a tough day, and it just got tougher."
The last comment referred to his demotion to the minors, where he hasn't pitched since 2013. In fact, he has won a total of 30 games the past three years.
"It doesn't matter about track record or anything like that," Koehler said. "If they don't feel like me pitching every fifth day (for the Marlins) is best for the team to win at the current time, then who am I to argue?"
If there is one sliver of optimism for the Marlins on Wednesday it is this: Since it is a day game after a night game, Miami will likely rest starting catcher J.T. Realmuto.
That means backup catcher A.J. Ellis will get the call, and the Marlins are 6-1 when he starts.
Hey, at least it's something.