Preview: Marlins try to salvage finale of three-game series vs. Cubs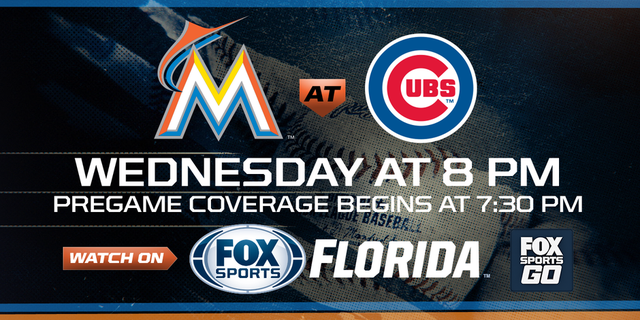 NEWYou can now listen to Fox News articles!
TV: FOX Sports Florida
TIME: Coverage begins at 7:30 p.m. ET
CHICAGO -- Miami right-hander Jose Urena looks for a return to a winning -- or at least steadier -- form when he makes his seventh start of the season Wednesday in the Marlins' series finale against the Chicago Cubs at Wrigley Field.
Chicago, which rolled to a 10-2 win over Miami on Tuesday, will attempt to complete a three-game sweep. The Cubs (30-27) will be looking for their sixth straight win, while the Marlins (24-33) will hope to break a two-game slide.
Urena (3-2, 3.80 ERA) will go against veteran Chicago right-hander John Lackey (4-5, 4.90 ERA).
Urena is coming off a rough outing Friday, when he allowed five runs on nine hits over 4 1/3 innings against the Arizona Diamondbacks. Moreover, the 25-year-old Dominican squandered a big lead after Miami gave him a 4-0, first-inning advantage.
He ended up with a no-decision as the Marlins rallied to a 7-5 victory.
"We feel confident when he pitches because you know he's going to be aggressive and his stuff is going to be good, so you can get away with making some mistakes," Marlins manager Don Mattingly said recently. "But you have also seen the deep pitch counts, 100 pitches in five innings, stuff like that."
Urena is 0-1 with a 4.50 ERA in one career start against the Cubs.
He picked up two victories in his final May starts, both lasting five innings.
On May 28 against the Los Angeles Angels, Urena allowed two runs on three hits while walking six and striking out seven in the Marlins' 9-2 victory. Five days earlier, he gave up six runs on four hits in Miami's 11-9 victory at Oakland, striking out three and walking two.
Lackey will make his 12th start of the season and seventh at home.
In his last start, he tossed seven innings for the second time this season but got a no-decision Friday in a 3-2 Cubs victory over the St. Louis Cardinals. Lackey gave up two runs on four hits.
He tried a little different approach in that game, not necessarily going for strikes while still getting batters out.
"Sometimes you can throw too many strikes," he said. "There can be too many things that are hittable. Obviously, (I) have a pretty long career and a reputation as a strike-thrower. I get a lot of early swings. Sometimes throwing something out of the zone is not always a bad thing."
Lackey is 1-1 with a 4.44 ERA against Miami in four career starts. Three of those appearances have been quality outings, including his last start vs. the Marlins on Aug. 3, 2016, at Wrigley Field.
On Wednesday, the Cubs will seek their first nine-game home winning streak since Aug. 16-Sept. 2, 2016, while the Marlins will try to avoid a 12th loss in 16 road games.
The Cubs' bullpen is back at full strength with the return of right-handed closer Wade Davis. He was away to be with his wife, who delivered a son.
Following the Wednesday game, the Marlins continue their road trip with a four-game series at Pittsburgh beginning Thursday. The Cubs stay home and welcome the Colorado Rockies for four games.