Preview: Cobb seeks third straight win as Rays try to even series vs. Angels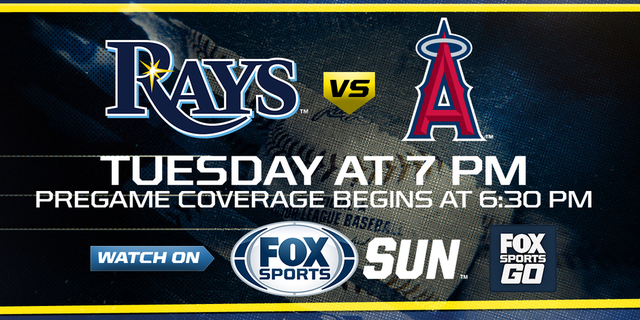 TV: FOX Sports Sun
TIME: Coverage begins at 6:30 p.m. ET
ST. PETERSBURG, Fla. -- The Tampa Bay Rays and Los Angeles Angels are two teams nearly tethered to .500. They started their four-game series Monday with identical 23-23 records, each seeking the impetus to set up a sustained run of wins.
"Just trying to keep the momentum going," said Cameron Maybin, who hit a solo home run and scored twice for the Angels in a 3-2 win. "We're playing some good baseball lately, and it's a good way to start the series off."
Game 2 of the series Tuesday pits two starting pitchers who won each of their past two decisions and are trying to build some personal momentum as well.
No Angels starting pitcher has won more than two straight decisions all season, but that is what Matt Shoemaker (3-2, 4.47 ERA) will try to do Tuesday.
He tossed six shutout innings to beat the Detroit Tigers on May 12, then gave up four runs (three earned) in 6 1/3 innings to top the Chicago White Sox on Wednesday.
Shoemaker has fared well against the Rays in his career, owning a 3-0 record with a 2.60 ERA against them, but his last start against Tampa Bay was nearly two years ago, in June 2015.
On the other side, Rays right-hander Alex Cobb has back-to-back victories for the first time since he underwent Tommy John surgery in 2015. He hasn't won three in a row since 2014. His last outing saw him match his season high with seven strikeouts in a win at Cleveland on Wednesday, when he held the Indians to three runs in seven innings.
Cobb has not been successful against the Angels in his career, amassing a 1-1 record with a 7.08 ERA in four career starts. His last outing against them was in 2012, when he gave up eight runs -- matching a career high -- and 12 hits, one off his most ever.
The Rays did a good job Monday of handling the Angels' two most dangerous batters, Mike Trout and Albert Pujols, who have combined for 66 RBIs. The duo went a combined 0-for-6 with three strikeouts, but the Rays' walks -- eight total -- cost them a close game. Rays relievers walked four in the pivotal seventh inning, and the decisive run scored on a wild pitch.
Tampa Bay, which had bounced back nicely entering the series after falling a season-low three games below .500 last week, got three hits in the first inning in jumping out to a 2-1 lead. However, the Rays managed just four hits, all singles, the rest of the way.
The Rays went 0-for-2 with runners in scoring position in what amounted to a quiet night at the plate. Finding consistency at the plate is a must if Tampa Bay is to be anything more than a .500 team the rest of the way.
"We started off really hot and had the energy," said Rays leadoff hitter Corey Dickerson, who has six home runs in his last six games, including one Monday on his 28th birthday. "Whenever you don't string at-bats, it kind of gets you down, but there's always tomorrow. We felt like something was going to happen. It was one run, and we felt like we had to score to get above that tie, but it didn't happen."