Preview: Chris Archer tries to help Rays regroup against Tigers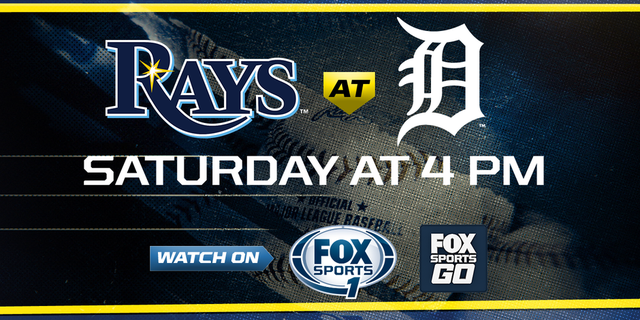 NEWYou can now listen to Fox News articles!
TV: FOX Sports 1
TIME: 4 p.m. ET
DETROIT -- The loss of Victor Martinez will take Detroit's cleanup hitter out of the lineup for at least the next 10 days.
It will also give Tigers' manager Brad Ausmus an opportunity to get creative with his designated hitter Saturday in the third game of a four-game series with the Tampa Bay Rays.
Martinez felt cold sweats and a racing heartbeat Thursday night, was taken out for a pinch-runner after reaching on a run-scoring error in the seventh and afterwards went to a local hospital for overnight observation. Diagnosis: irregular heartbeat.
He was placed on the 10-day disabled list with catcher/first baseman John Hicks being brought up from the minors for the third time this season. Martinez spent a second night Friday for observation and more tests.
Miguel Cabrera, whose two-run home run in the ninth gave Detroit a 5-3 victory over Tampa Bay, was inked in as the designated hitter for Friday night's 13-4 win but may return to first Saturday.
"We got a few guys that could use the DH spot," Ausmus said. "J.D. Martinez could use some time off the field with his foot. Alex Avila, the way he's swinging the bat, we'd like to keep him in the lineup. Good way to keep him in the lineup without having him catch all the time.
"So we've got a number of options there. It may be depending on the opposing pitcher. There may be some kind of rotation. Last night (trainer) Kevin Rand came and said Miggy's hip was bothering him. So I just figured today the obvious choice would be Miggy. As long as he's able to hit.
Ausmus said J.D. Martinez will hit cleanup and Justin Upton fifth until Victor Martinez returns.
"Of course Miggy being Miggy, he said, 'Why don't you DH Alex' I said that's a good idea and I might some time but I figure if we can get you off your feet rather than standing for nine innings, maybe we can knock this thing out," Ausmus said. "There's going to be a few guys (DHing). Certainly J.D. could use a few days."
Right-hander Michael Fulmer (6-4, 3.40 ERA) of Detroit will engage in a marquee matchup with Tampa Bay right-hander Chris Archer (4-4, 3.80 ERA).
Fulmer's start was pushed back from Wednesday because of right shoulder bursitis, which required a cortisone shot. This will be his fourth career start against the Rays, against whom he is 2-1 with a 1.80 ERA. The defeat came earlier this season at Tampa Bay.
Archer is 1-2 with a 3.63 ERA in seven previous starts against Detroit. He did not get a decision in his start against the Tigers earlier this year.
Detroit is looking for its third straight win over Tampa Bay, which has now dropped three in a row.
"We got Arch on the mound," Rays manager Kevin Cash said. "This is 2-3 starts in a row where we need to find a way to win and we've had him on the mound. We need a strong performance out of him and get the offense going a little bit."
Defensive misplays have hurt the Rays in two of their last three games, which a pitching-based team can do without.
"For our pitchers, we've got to make routine plays behind them," Cash said before Friday's game. "Just get outs. You don't always have to turn the ball over for a double play but find a way to get one out.
"They come up a lot in a tight ball games, especially later in the ballgame. That's kind of what's happened the last two games."