Preview: Brewers at Marlins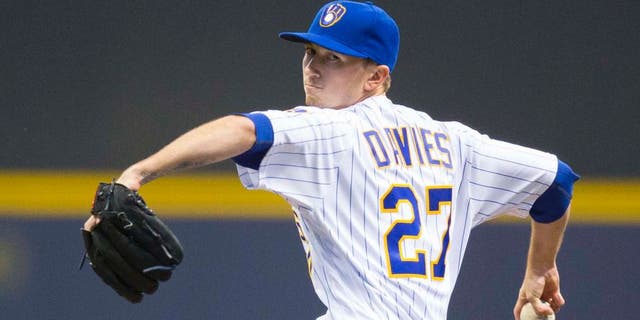 NEWYou can now listen to Fox News articles!
Marlins left-hander Adam Conley is always eager to throw his next pitch. He works fast and jokes he wishes he could take the mound every four days like the old-timers did.
So it's no surprise Conley is looking forward to his rematch against the Brewers.
Conley allowed no hits in 7 2/3 innings at Milwaukee on April 29 before being pulled from the game because he had thrown a career-high 116 pitches. He earned the victory and will face the Brewers again Tuesday night, when he expects a completely different kind of game.
"It's going to be in the back of my mind what I did to some of those guys before when I had success," Conley said Monday. "But it's a new day. They're going to feel different; I'm going to feel different; my stuff's not going to be the same; we're in a different park. I'm going to pitch the best I can, and they're going to try to get me out of there in the second inning."
Conley (2-1, 3.06 ERA) followed his performance at Milwaukee with a victory over Arizona six days later, when he allowed only two hits in 5 1/3 shutout innings. His early-season success has been one of the bright spots so far in 2016 for Miami.
A second-round draft pick in 2011 who went 4-1 as a rookie last year, Conley believes a quicker tempo on the mound this year has contributed to his effectiveness.
"If I can get up there and throw a pitch every eight or 10 seconds and it makes it tough for a hitter, I'm going to do it," he said. "The faster I can execute a pitch over and over, my defense is going to appreciate it, and it's less time for the opposing hitter to think.
"It helps me not give guys too much credit. You want to respect hitters, but only as much as they deserve to be respected."
As a former hitter himself, Marlins manager Don Mattingly said he can see how Conley's catch-and-throw approach makes batters uncomfortable.
"You foul one off, and you look up and he's ready to go again," Mattingly said. "You don't have time to digest. He makes you work quicker, and that puts certain guys at a disadvantage."
Opponents are batting .200 against Conley, who has 34 strikeouts in 32 1/3 innings.
Brewers manager Craig Counsell laughed when asked what made Conley so tough on his team in the earlier meeting.
"He didn't give up any hits," Counsell said. "No, he threw a lot of pitches at the bottom of the strike zone. He threw in and out to keep our batters honest. And his pace on the mound was really good. He gets the ball and goes."
He'll have a hard act to follow after Jose Fernandez struck out 11 and held the Brewers to four hits over seven scoreless innings in a 4-1 win in Monday's opener.
Zach Davies (0-3, 6.98), who like Conley grew up in Washington and made his major league debut last season, hasn't fared nearly as well so far in 2016. The right-hander's ERA was at 8.78 through three starts, though he finally turned in a solid performance by holding the Los Angeles Angels to two runs over six innings Wednesday.
"I tried to go out there and really catch them a little sleepy and establish the fastball early, trying to go after them a little bit more," Davies said. "Any time you go out there and improve upon the things that you've struggled with in the past a little bit, it gives you a little reassurance that you can go out there and do it."
One of the best of his 10 starts in the majors came Sept. 7 in Miami, where he held the Marlins to a run over seven innings for his first victory. He gave up four runs over five while paired up against Conley last month.