Preds showing a good offense is a great defense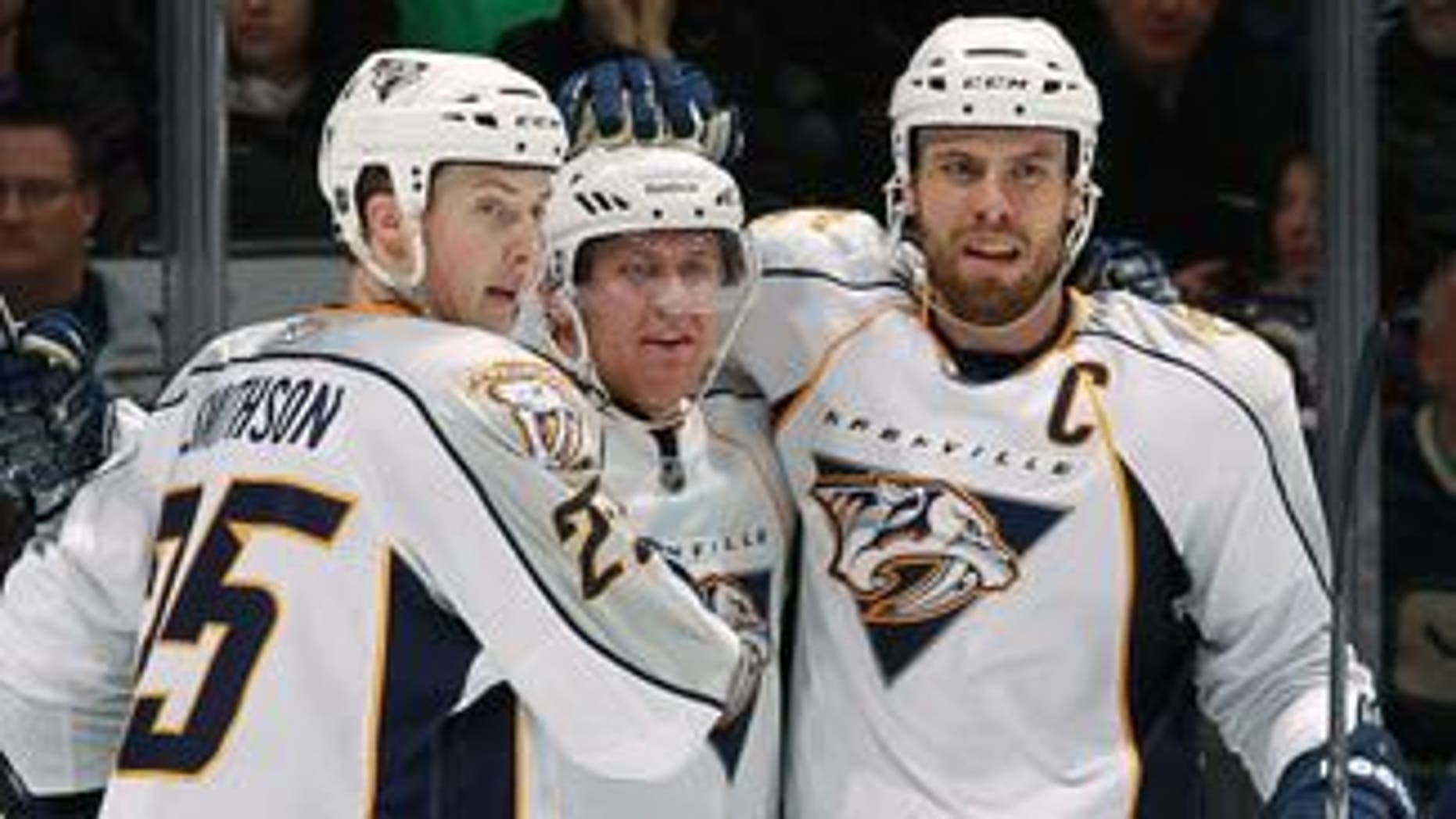 NASHVILLE, Tenn. -- On Monday, Predators coach Barry Trotz said he thinks that at some point during their careers two of his team's defensemen, Shea Weber, who is a finalist this year, and Ryan Suter, will win the Norris Trophy.
That remains to be seen but one thing that is for sure is that during the playoffs, the Predators are getting plenty of offense out of that pair and out of their defense in general.
Weber (three goals, two assists) and Suter (one goal, four assists) each have five points in eight games. So while those two are producing at about the same rate as they did in the regular season others like Cody Franson, who has four assists, are helping Nashville to produce at a higher rate than the Preds'defense did in the regular season.
In all, Nashville has 19 points in 48 games from its defense in the playoffs and that includes none from stay-at-home-type Shane O'Brien.
"I think it's been like that all year," Suter said of the production from Nashville's back end. "Our (defense) has been a big part of our offense. Everyone's contributed, offensively. When you don't have the superstars to contribute and help out and this year's been a good example of that."
Trotz echoed Suter's comments.
"If you look at it all year, our (defense) are involved," he said. "They have to be. The way teams track and get their numbers back, you need to have the defense involved. Unless you have exceptionally talented forwards, you're probably not
going to get as many opportunities. Most odd-man chances, there's a defenseman involved. That's the way the game is."
Suter scored the tying goal with 67 seconds left in regulation in Game 2 from behind the goal line -- the second time in the playoffs he has started a play that has led to a goal from that deep in the offensive zone. Nashville went on to win in double overtime with a goal that was assisted by Suter.
Nashville's system emphasizes defensive responsibility, so it's been surprising to find Suter, an excellent skater, so deep in the offensive end at times. In the first round, he stripped a defender of the puck against the wall behind the net and two passes later the Predators scored in the final minute of a period.
Suter laughed after that game that he would not have taken such a chance if he knew that more time remained than he thought. But he said both situations were similar.
"It was the last-minute of the game," said Suter, who had 39 points in 70 regular season games. "It was desperation. It's the last 20 seconds of the period in the Anaheim series. And I knew in the Anaheim series, I knew they were changing (lines). I didn't know there was that much time left on the clock. When there's (little) time like that, you can take the risk."
Trotz said he is comfortable with Suter's risk-taking. The player finished a plus-20 in the regular season -- best on the team.
"Sutes has great awareness of when to go, great awareness of when to get back," Trotz said. "He really has free reign to do that. I have good trust in his game. He's a guy that can get around the ice pretty well.
"With a guy like him or (San Jose's) Dan Boyle, it would be a crime for him not to have free reign. I think we try to develop defensemen like that in our organization."
One difference in the current series as opposed to the first round for Nashville is its ability to score power-play goals -- a phase in which the defense helped out considerably. Nashville had six power-play goals in six games in the first round but has yet to break through the Canucks' unit, which tied for the second-best percentage in the League during the regular season.
"Yeah, our power play was clicking pretty good in the first series," said Franson, who has a hard shot from the point. "We're able to get a few plays we were working on for a while and the Canucks have done a real good job on the penalty kill against us. Obviously, we have chances we're looking for, but that's part of the adversity of playing in the playoffs .... You've got to be able to adapt to those kinds of situations, those problems and be able to solve them."
Continued production from the defense would seem to be one answer.