Preds find a way, Canucks can't close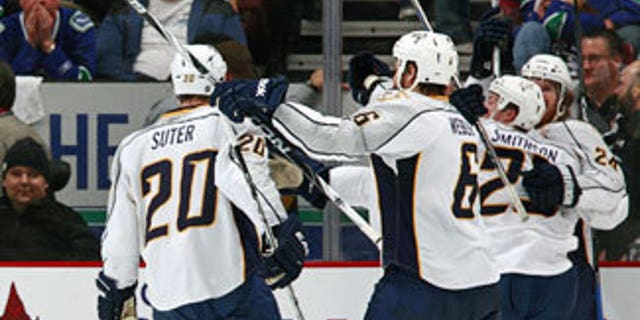 VANCOUVER, B.C. – If the Vancouver Canucks make the Western Conference Semifinals next year, maybe they should ask to skip Game 2.
For the third year in a row, the Canucks followed up a Game 1 win in the second round by coming up short in Game 2 -- but this one had to hurt more than the losses to Chicago in each of the last two years. This time, they were actually just 67 seconds away from a 2-0 series lead, only to have Nashville defenseman Ryan Suter get the tying goal and Matt Halischuk scored the winner 14:51 into the second OT for a 2-1 win.
The Canucks nearly won Saturday's game despite being outshot 36-15 in regulation – then got 18 shots in less than two periods of overtime but couldn't get one Pekka Rinne.
"He was definitely their best player," said defenseman Kevin Bieksa, the victim of Rinne's best OT save. We had plenty of chances to win it in overtime and plenty of chances to go up 2-0, and he stood on his head."
Asked how he refocused for OT after seeing so few shots through 60 minutes, Rinne said simply, "you have no choice."
"It's sudden death and you try to be ready for every single situation, every single shot," he added. "It was easy to stay focused, especially in overtime, it seemed like they were shooting more, and it's always fun when that happens."
Rinne wasn't making life fun for Vancouver's shooters in OT. No doubt Bieksa left Rogers Arena wondering what happened to his game-winning goal.
Daniel Sedin put a perfect pass onto Bieksa's stick as he came in backdoor late in the first overtime. Bieksa one-timed it perfectly and was ready to celebrate – only to see the puck disappear into Rinne, who dived across to stop the shot and smother the rebound.
"Obviously, I was a little bit fortunate," Rinne said. "Sedin made a nice pass to Bieksa and I was able to get my blocker and my stick over there."
With only two goals in two games, and just 18 in nine playoff games, the Canucks need to start finding the back of the net -- quickly.
"You want to score more goals, that's the bottom line," said Henrik Sedin, who had one shot in 31:25 of ice time. "We have to bear down on the chances we get, in overtime too we had a lot of chances to finish it off. That's something we need to take a look at."
Canucks coach Alain Vigneault said his team needs more from the Sedins.
"They're our top players and obviously we need them to perform like top players," he said. "I know they're working real hard, sometimes you've got to give the opposition some credit."
The Predators got a break on the tying goal – Suter's passout from the end boards hit goalie Roberto Luongo's skate and went into the net. But Nashville looked much more like the team that beat Anaheim in the first round, rather than the one that was dominated for almost all of Game 1.
"Obviously they were disappointed about their first game. We knew they were going to come out hard," Vigneault said. "At the end of the day though, I'm more disappointed about how we played. Obviously I'm giving them credit, but I know we can play better than we did tonight."
With the series now headed to Nashville for Games 3 and 4, the Canucks had better step up their game. With the Predators in the second round for the first time in franchise history, Bridgestone Arena will be rocking like never before on Tuesday night – especially after the Preds' got a split in Vancouver.
"We can build off of that goal in overtime, go home and use our crowd," captain Shea Weber said. "That's a very good team over there and it's not going to be a short series by any means. It's going to be a marathon, not a sprint."
Halischuk, who was playing in just his eighth NHL playoff game, knows the importance of the Game 2 win.
"Game 1 was a wakeup call, we came out hard today and had a good 60 minutes to get us to overtime and just kind of went from there," he said. "I think we'll try to take the momentum back home, for sure."