Portugal's Euro 2016 title was only possible because of the new 24-team format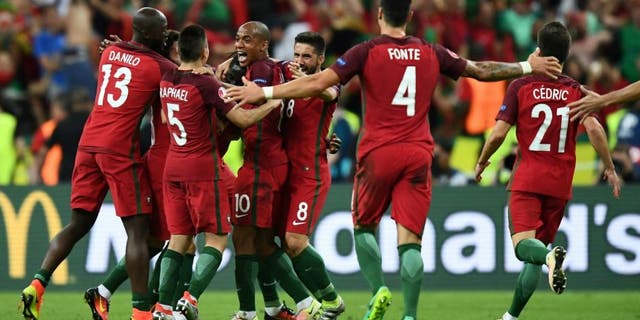 NEWYou can now listen to Fox News articles!
Portugal are the Euro 2016 champions. No matter what anyone says or does, that will not change. They have the trophy, which will travel the country and be ogled by admiring Portuguese for years to come. Finally, they have broken through and won a major tournament for the first time ever.
It took a fair bit of luck for them to do it, too.
Portugal wouldn't have even made the knockout stages if it wasn't for the expanded 24-team format. They finished third in their group, having not won a single match, and at any other Euros would have gone home then. But thanks to the new format, third place teams advanced and they went through.
The expanded format was Michel Platini's idea. Maybe you believe that it was a chance to include more teams and spread the great tournament to more countries, as UEFA said when they agreed to the change. It's possible you think it was just a political ploy for Platini to garner support within UEFA and towards a run for FIFA president, which was rendered moot when he was banned from world soccer. But regardless of why the format was changed, it was, and Portugal took advantage.
They also got lucky with the half of the bracket they ended up in. They had to beat Croatia in the round of 16, but they faced Poland and Wales -- hardly a gauntlet.
On top of that, they won just once in normal time all tournament. In seven matches they won twice in extra time and had four draws (with them advancing on penalties in one of those draws). Does that really sound like a champion?
It doesn't. They are the first ever champions to win just one match in regulation. They are the first team to benefit from the expanded format (obviously, because it is the first tournament with this format) and they did have an easy draw. But that doesn't make them undeserving champions. They played the tournament under the same rules as everyone else and were the only team left by the end of it all.
Portugal may be unlikely champions. They may be bizarre champions. They may even be fortunate champions. But they are champions and every bit deserving of that title, even if they never would have had that chance in any other Euros, without the 24-team format. Timing is everything.
MORE FROM FOX SOCCER