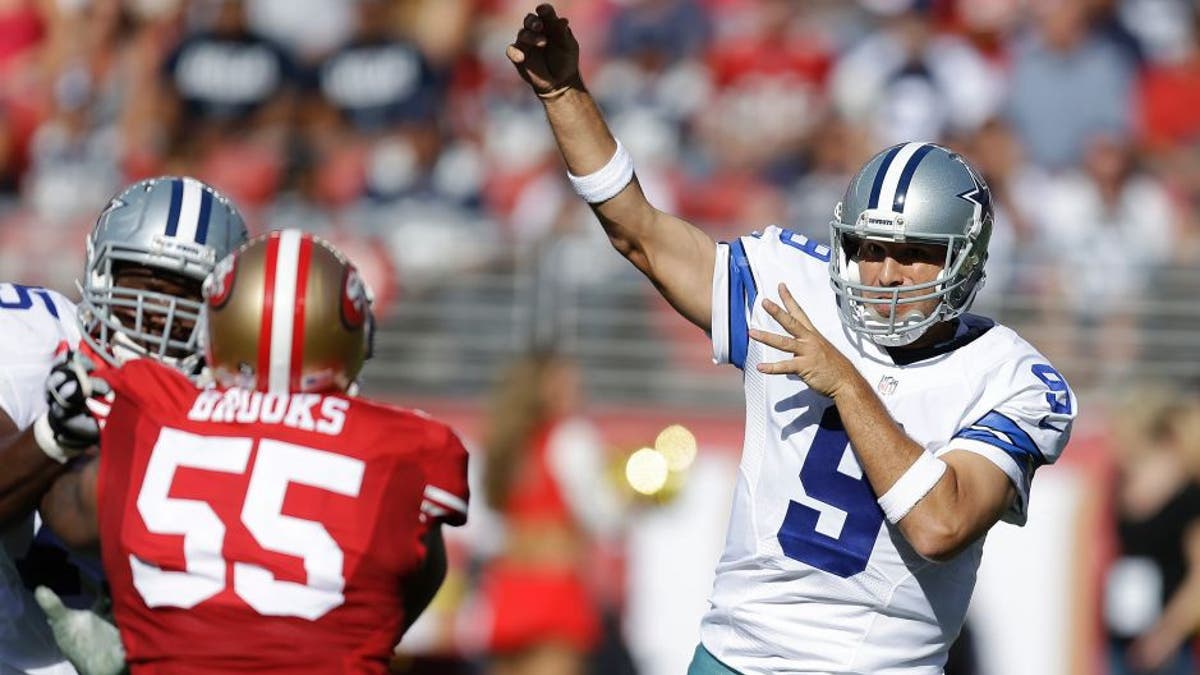 SANTA CLARA, Calif. -- The collective play of Dallas Cowboys quarterbacks against the San Francisco 49ers has been 7/15 for 49 yards, two interceptions, and a 15.0 passer rating at Levi's Stadium.

Tony Romo started the Cowboys' opening series, a three-and-out. His lone attempt was a completed pass to Lance Dunbar on third down for a one-yard loss. Romo left the game with a 79.2 passer rating.

Backup quarterback Brandon Weeden played three series, but left the game midway through the second quarter and headed to the locker room. He was seen on the sideline going through the cognitive evaluations to determine if he had sustained a concussion. The four-year veteran finished the game completing two passes on five attempts for seven yards.

Second-year third-stringer Dustin Vaughan had the worst outing of all that contributed to the team's overall poor passing game. Vaughan went 4/9 for 43 yards and threw two interceptions.

With 7:39 left in the second quarter, Vaughan threw a pick right in the gut of 49ers defensive lineman Mike Purcell who returned it for a 37-yard touchdown to put San Francisco up 13-0.

Vaughan threw another interception to safety Craig Dahl on second-and-10 with 1:56 left in the second quarter. The pass was intended for undrafted rookie receiver Lucky Whitehead, but Dahl's break beat Whitehead to the ball for the change of possession.

The Cowboys defense responded well despite the struggling play from the offense. Second-round defensive lineman Randy Gregory earned his second preseason sack when he dropped Colin Kaepernick for a 15-yard loss on second-and-6 on San Francisco's second drive. Gregory also drew two holding penalties throughout the course of the first half.

Rookie Ryan Russell also got in on the sack party with a two-yard sack of backup Blaine Gabbert on a third-and-7.

Second-year linebacker Keith Smith tackled Quinton Patton for a 12-yard loss after Patton caught a pass for what would have been a 10-yard gain on third-and-14. Instead, Patton ran laterally to a point that he evaded Cowboys defenders except for Smith.

Defensive end Ben Gardner also got in on the action with a five-yard sack on third-and-11 with 55 seconds remaining in the first half.

"I think that's probably the bright spot of our game," head coach Jason Garrett told CBS 11 [KTVT]. "We were in compromising positions on defense with bad field position and scoring opportunities for them. We kept them out of the end zone and made timely sacks. That's certainly was impressive."