Police visit home of Patriots' Hernandez after body found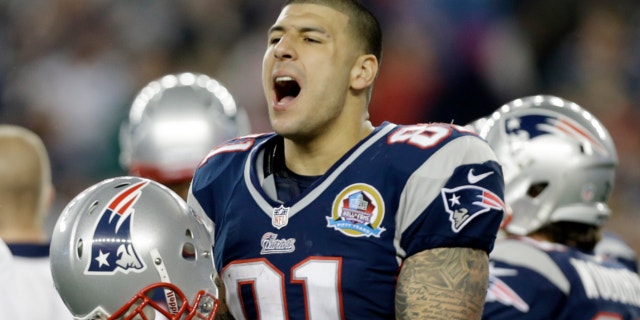 NEWYou can now listen to Fox News articles!
The victim at the center of a death investigation in North Attleboro involving Patriots' TE Aaron Hernandez has been identified.
A family member told MyFoxBoston.com that 27-year-old Odin Lloyd had died this week. The man, who identified himself as Lloyd's uncle Ed, said that Lloyd was a member of the Boston Bandits semi-professional football team.
The coach of the Boston Bandits, Olivier Bustin, told MyFoxBoston.com that he had heard from players and social media that Lloyd had been found dead in North Attleboro.
On Monday, a jogger found a body at an industrial park less than a mile away from Hernandez's $1.3 million North Attleboro home.
Police had not confirmed the identity of the body.
Lloyd's uncle told Haynes that the had last seen his nephew last Sunday. He said Lloyd was a "good guy" who lived in Dorchester and loved football.
According to Sports Illustrated, Hernandez was questioned Monday evening in connection with the death. Police were both outside and inside Hernandez's $1.3 million home Tuesday night and again Wednesday.
Hernandez is not believed to be a suspect; however, a 2013 Chevrolet Suburban rented in his name has emerged as a key piece of evidence in the investigation, a source told Sports Illustrated. The vehicle was registered to Enterprise Rent-A-Car.
On Tuesday two men tried to leave Hernandez's property and were stopped by state police. Both were seen a short time later entering the North Attleboro Police Station, FOX 25's Ted Daniel reports. The men were later released. One told Daniel that police confiscated his phone and that he knew nothing about the body.
Some authorities walked around the driveway and in the garage with flashlights. Before wrapping up their work for the night, one officer took a box out of the massive house.
In an exclusive interview with MyFoxBoston.com, Dave Swithers, who owns a business near where the body was found, described the deceased as a black male in his late 20s. He says the man was nicely dressed in a button-down shirt and slacks.
"One of the police officers said to us it looked like he had been shot and dumped there," Swithers said.
Click for more from MyFoxBoston.com