Police recover O.J. Simpson Heisman stolen from USC in 1994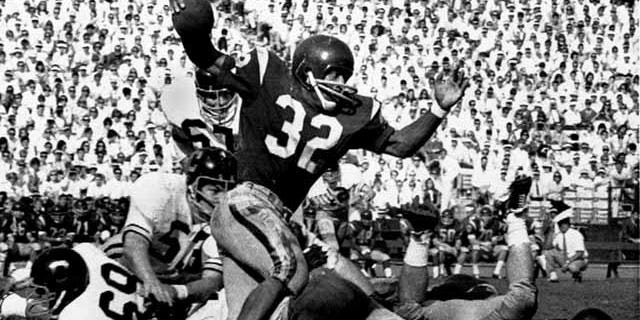 Los Angeles police said Tuesday that they had recovered a copy of O.J. Simpson's Heisman Trophy that was stolen from the University of Southern California over 20 years ago.
The Los Angeles Times reported that detectives from the Los Angeles Police Department's art theft detail recovered the trophy Dec. 16, but only announced it Tuesday. The paper reported that the recovery came to light after detectives went to court seeking a search warrant for the phone records of an unnamed person they said was connected to the theft.
LAPD spokesman Officer Drake Madison said no further details would be released because the investigation was ongoing.
The trophy and a Simpson jersey were stolen in a burglary at Heritage Hall, home to USC's athletic department, on July 28, 1994. The burglars had dismantled Plexiglas display cases to take the items and the theft was discovered by a janitor the next morning. At the time, Simpson was awaiting trial for the murder of his ex-wife Nicole Brown Simpson and her friend Ron Goldman, who were killed the previous month. He would be acquitted in 1995.
The recovered Heisman is the duplicate trophy that was given to the university, and not the one that was presented to Simpson by New York's Downtown Athletic Club in 1968. Simpson's own trophy was seized under a $33.5 million judgment after a civil court found Simpson liable for the deaths of Nicole Simpson and Goldman.
Simpson is now in a Nevada prison after a 2008 conviction for kidnapping and armed robbery in a hotel room heist in Las Vegas. The Nevada Supreme Court is considering an appeal seeking his release.
It remained in police possession, and USC athletic officials had no immediate comment Tuesday night. Simpson is one of six USC football players to have won the Heisman Trophy, which is presented annually to the best college football player in America as voted on by a select group of media members and past winners. Only Ohio State and Notre Dame (seven each) have won more. A seventh USC Heisman, awarded in 2005 to running back Reggie Bush, was vacated after an NCAA investigation.
The Associated Press contributed to this report.
Click for more from the Los Angeles Times.