Play begins in US Open men's semifinals after rain delay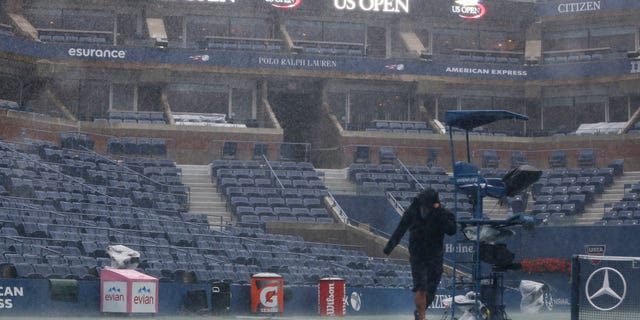 NEW YORK – Andy Murray and Tomas Berdych started play in the U.S. Open semifinals more than an hour late Saturday, after heavy rain and a tornado warning.
A storm hit Flushing Meadows at about 10 a.m., dumping showers that continued past 11 a.m., when Olympic champion Murray and 2010 Wimbledon runner-up Berdych were originally supposed to be on court. The match began at 12:25 p.m.
Saturday's schedule also included the other men's semifinal, between defending champion Novak Djokovic and fourth-seeded David Ferrer, and -- at night -- the women's final, between 14-time major champion Serena Williams and No. 1 Victoria Azarenka.
The U.S. Open is the only Grand Slam tournament that schedules two men's semifinals on Saturday. If both aren't completed Saturday, the men's final can't be played as scheduled Sunday and needs to be delayed until Monday -- which has happened each of the past four years in New York.
The National Weather Service issued a tornado warning for the New York City boroughs of Queens -- home to the USTA Billie Jean King National Tennis Center -- and Brooklyn as a line of strong thunderstorms moved through Saturday morning. There was no immediate indication whether a twister actually formed or touched down.
During the women's semifinals Friday, it was muggy with temperatures in the 80s, though Williams didn't have to worry much about the weather or anything else, really.
Her 6-1, 6-2 victory over the 10th-seeded Sara Errani of Italy turned out exactly the way pretty much everyone expected. Even Errani, who acknowledged afterward her main goal was pushing the match longer than an hour.
It wound up taking 64 minutes -- 10 fewer than the third set alone of Azarenka's 3-6, 6-2, 6-4 victory over four-time major champion Maria Sharapova in the other women's semifinal.
Williams will be in her 19th Grand Slam final, a string that began at Flushing Meadows in 1999, when she defeated Martina Hingis for her first title.
"It's stressful against her," Errani said. "She puts a lot of pressure on you."
Azarenka will be participating in her second major final; she won the Australian Open in January to reach No. 1 in the rankings for the first time.
Heading into the U.S. Open final, Williams owns a 9-1 record against Azarenka.
"I've got to do something different, to be honest," Azarenka said.
Asked whether she would watch video of their past matches, Azarenka joked: "Well, I don't want to be depressed."
Last year, Williams was stunned in the final at Flushing Meadows by Australia's Sam Stosur, a match best remembered for Williams directing a series of insults at the chair umpire, including, "You're just unattractive inside."
Two years before that, Williams launched into her infamous foot-fault tirade and was docked a point on match point, ending a semifinal loss to Kim Clijsters.
When it was mentioned to Williams that nothing of that sort has happened this year, she replied: "Hey, it's not done yet."
"I did grunt once today, and I thought, `God, I hope I don't lose the point,"' said Williams, who has lost 19 games in six matches so far. "Like I said, my goal this year was not to get in any fights."