Pirates' Rodriguez goes absolutely INSANE when benches clear vs. Cubs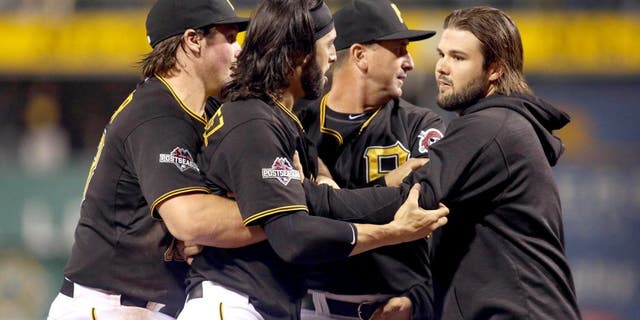 NEWYou can now listen to Fox News articles!
If the Pittsburgh Pirates were going to lose the NL Wild Card Game to the Chicago Cubs, they weren't going down without a fight.
Pittsburgh's Sean Rodriguez just took it a little too far. Or more like a lot too far.
When the benches cleared in the seventh inning after Chicago ace Jake Arrieta was hit by a pinch, Rodriguez shot into the fray like a bat out of hell, screaming at Cubs players and even appearing to take a swipe at one. After being ejected, Rodriguez returned to the dugout, where he could be seen shouting "I'm gonna f***ing kill you!" across the diamond, and then unleashed his fury on the Gatorade cooler.
Check it out in the video below.
Rodriguez had good reason to be extra flammable: He started the game but was pinch hit for before he got a chance to hit.
Rodriguez told Yahoo's Jeff Passan that Cubs catcher David Ross choked him during the melee and that's what set him off. Ross responded by saying it was unintentional.