Picture of NBA draft pick Lonnie Walker IV's 'floating' hat becomes hilarious meme
University of Miami basketball star Lonnie Walker IV ran into some hair and hat trouble on Thursday night during the NBA draft.
Walker, 19, was chosen by the San Antonio Spurs with the 18th overall pick at the draft. But the rookie couldn't place his new team's cap directly on his head due to his sky-high hairstyle.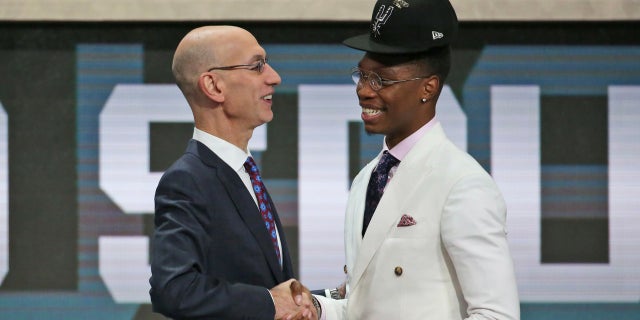 The hat appeared to hover above his head as he shook NBA Commissioner Adam Silver's hand.
Pictures of Walker's "floating" hat made the internet rounds with some turning it into a funny meme.
"Lonnie Walker revolutionizing NBA Draft Day swag by performing first ever floating hat magic trick," a social media user wrote.
"Something isn't quite right here. I think Lonnie Walker might be a wizard. That hat appears to be floating," Spurs Nation tweeted.
"Lonnie Walker wearing a hat is the best moment of the draft night," a person tweeted.
"New Spurs player Lonnie Walker IV seen at practice already!" a social media user wrote with a picture of Gerald from Nickelodeon cartoon "Hey Arnold!" wearing a Spurs hat.
Even Walker's college team got in on the fun.
"Levitate levitate levitate," the Miami Hurricanes tweeted along with a photo of Walker and Silver.
Walker tweeted a photo of him smiling with Silver, wearing the hat, and expressed his excitement for his future with the Spurs.
"Beyond hyped. Ready to get to work for the Spurs," he tweeted.
Later at a press conference, Walker spoke with the media sans the hat. But it was placed next to him on the table.