PHOTO: Aaron Rodgers dresses up as fighter pilot for annual luncheon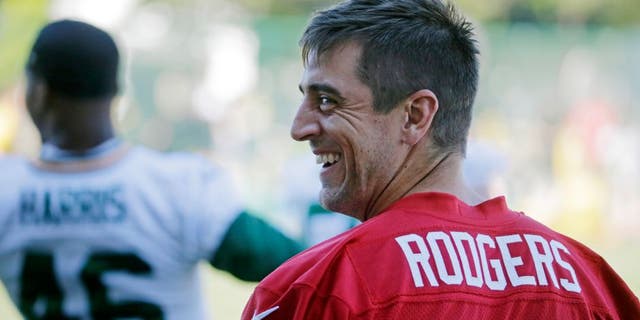 NEWYou can now listen to Fox News articles!
The Packers attended the annual Green Bay Area Chamber of Commerce "Welcome Back" luncheon on Wednesday. The event was held at the Lambeau Field Atrium, and Packers quarterback Aaron Rodgers continued his tradition of showing up in unconventional garb.
This year, Rodgers wore a full U.S. Navy Blue Angels pilot suit. Yes, he even wore the helmet and mask.
Packers fullback John Kuhn also sported fighter pilot gear to the event, so the Packers' official Twitter account had a little fun with photoshop and recreated a "Top Gun" movie poster featuring Rodgers and Kuhn in costume.
On a more serious note, linebacker Sam Barrington was honored at the ceremony with a community service award for his work with the NFL's Play 60 in addition to his involvement with local Salvation Army, Big Brothers Big Sisters, and PALS chapters, according to the Packers' official website.
"I said I wanted to do more, not because I wanted the award but because the community needed it," Barrington said, per Packers.com. "I hope someone out there is thinking the same thing."
Check out some of Rodgers' past luncheon getups in the gallery below.
(h/t Green Bay Packers)