Philip Rivers admits the Chargers drafting a QB woudnt have been real good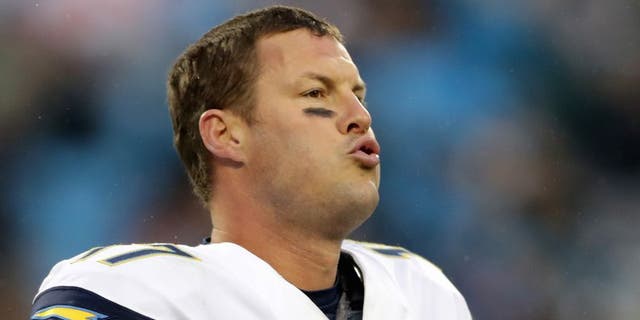 The Chargers are moving to Los Angeles this season with a reliable veteran quarterback at the helm in Philip Rivers. Hell head to sunny L.A. with another weapon at his disposal thanks to the Chargers decision to draft Mike Williams at No. 7 overall Thursday night.
For more reasons than one, Rivers is happy with the pick. The biggest, of course, is the fact that the Chargers are firmly behind him as the starting quarterback, opting not to take his heir in the first round.
Rivers admits it wouldnt have been a good situation had the Chargers taken his eventual replacement at No. 7.
"Yeah, I don't know if it would have been real good. As I told y'all a few weeks ago, not that I would ever shy away from anything, but that would have been an indication to me that we're looking down the road," Rivers told KLSD-AM in San Diego on Friday, via NFL.com. "We're not really sure we can win right now, so we're gonna go ahead and take a quarterback at seven, and we'll let you hang on as long as you can, then we're gonna move on. You know what I mean?"
The Chargers did exactly the opposite of drafting a quarterback, instead grabbing a player who can help Rivers right away, and for years to come. The combination of Williams and Keenan Allen on the outside is a dangerous one that will give secondaries fits on a weekly basis.
While the Chargers could still draft a quarterback in the second or third round DeShone Kizer is still sitting there Rivers has made it very clear he wouldnt be happy about a move of that nature.
"That's why I don't think I would've handled it OK but it wouldn't have been great," he said. I'm glad we made a move that I think helps us right now. As I've told you guys, and as I truly believe, I think we're almost in a window as we were in '06, '09, and that part is pretty exciting."
The Chargers hold the 38th pick the sixth selection on Friday night and will likely look to shore up the offensive line. Cam Robinson and Forrest Lamp should be considered as potential starters at guard, while the Chargers could also look at the defensive line as a position of need.