Philadelphia Eagles' Coach Andy Reid Taps Juan Castillo for Defensive Coordinator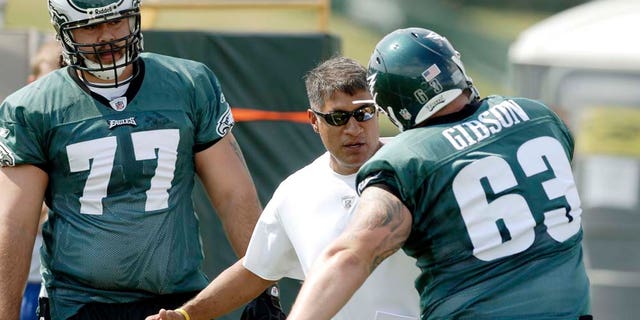 Juan Castillo, the Philadelphia Eagles longtime offensive line coach, was tapped by head coach Andy Reid to become the team's new defensive coordinator.
The traditionally defensive-minded team conducted an exhaustive search for a new coach to run that side of the ball. In the end, they hired from within, turning to Castillo, who has been with the organization for 16 years.
Castillo, who coached the team's offensive line for 13 season, will replace Sean McDermott, who was fired on Jan. 15. The team, which also added Howard Mudd as the new offensive line coach to replace Castillo, made the announcement on Wednesday.
"It's a tribute to the hard work, the diligence and the kind of football coach he is," Reid said. "I think if you have the opportunity to talk to any player, if you have an opportunity to talk to any coach that has been a Philadelphia Eagle, and many coaches throughout the league, what might seem a little strange is just a very confident move, and one that will take our defense to another level."
A former linebacker at Texas A&I (1978-80), Castillo, 51, played for the USFL's San Antonio Gunslingers (1984-85), and also was an assistant at Texas A&M-Kingsville from 1982-85.
"I think if you talk to the defensive guys, especially the front seven, I've always told them I'm a defensive guy who got stuck on the offensive side," Castillo said. "That took a lot of years of studying. That was a tough deal. What happens is you start to be perceived as an offensive guy."
Castillo is one of few NFL coaches of Hispanic descent. He is of Mexican heritage, fluent in Spanish, and has promoted the NFL product for its Spanish-speaking audience.
The move comes a few weeks after the Carolina Panthers hired another Latino, Ron Rivera, to become its head coach.
"Juan is one of the smartest and most dynamic coaches in the NFL," Rivera said. "If anyone could cross over to the dark side (of defense), he's the guy. Seriously, if anyone can do it, Juan Castillo is able to do it. I don't know if I have seen anyone any more committed as a coach in this league than him."
Castillo joined the Eagles in 1995 as an offensive assistant under coach Ray Rhodes. He was promoted to tight ends coach in 1997, and then offensive line coach in 1998.
"I have a strong affinity for Juan going back to our days spent together in Philadelphia," Minnesota Vikings coach Leslie Frazier said. "I can remember Jim Johnson and our defensive staff putting our game plans together and we'd always get together with Juan just to make sure they were sound in terms of pressures and blitzes. Sometimes, I felt like he was on our defensive staff. And to do this day, he and I talk every week during the season to talk about other offenses in the league."
Castillo was one of four members of Rhodes' staff to be retained by Reid in 1999.
"Great move by Coach Reid. Juan is a football junkie who has always studied the entire game," said St. Louis Rams coach Steve Spagnuolo, a former Eagles assistant. "He's a detailed, aggressive, and passionate football coach — all attributes vital to coaching defense."
The Eagles won the NFC East this season, but lost to the eventual NFC-champion Green Bay Packers, 21-16, in the wild-card round at Lincoln Financial Field. After the dramatic, come-from-behind, 38-31 win over the New York Giants at The Meadowlands, they finished the year with three consecutive losses, all at home.
McDermott's defense finished 12th overall, giving up 327.2 yards per game.
Based on reporting by the Associated Press.
Follow us on twitter.com/foxnewslatino
Like us at facebook.com/foxnewslatino