Philadelphia 76ers owners meet over executive's 'burnergate' controversy: report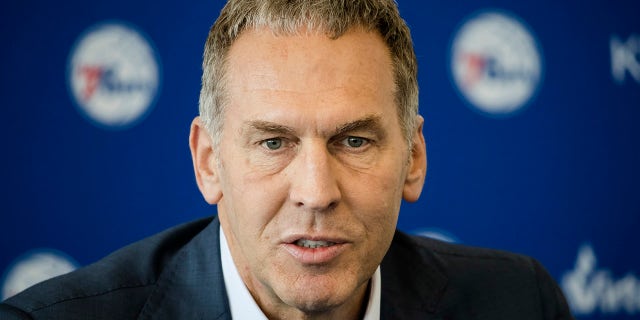 NEWYou can now listen to Fox News articles!
The Philadelphia 76ers' ownership group reportedly met Tuesday night to discuss whether to fire their president of basketball operations, Bryan Colangelo, over the so-called "burnergate" scandal.
A decision regarding Colangelo's future could come as early as Wednesday, ESPN reported. The law firm hired to investigate the burner accounts that had been tied to Colangelo and his wife, Barbara Bottini, spent several hours talking to the duo on Sunday and Monday, according to the report.
Colangelo has owned up to at least one of the fake accounts and has said he had no knowledge of his wife using any such accounts to rail against players and league officials online.
The 76ers launched its investigation after The Ringer published a report linking Colangelo to five Twitter accounts that were taking shots at 76ers stars Joel Embiid and Markelle Fultz, former general manager Sam Hinkie, Toronto Raptors executive Masai Ujiri and former 76ers players Jahlil Okafor and Nerlens Noel.
Colangelo, who is the team's president of basketball operations, confirmed that at least one of the accounts was his.
The 52-year-old told Yahoo Sports that he believes there's someone "out to get him."
Despite vehement denials from Colangelo, the team's ownership was reportedly fuming over the incident and are embarrassed.
Colangelo has discussed with management the possibility that his wife may have owned the accounts in question, league sources told ESPN.
Twitter sleuths linked Bottini to at least three of the accounts because she had a phone number ending in the same digits as the number tied to the handles, according to Sports Illustrated.
Ownership's main fear is that the Colangelo scandal has hurt his credibility inside and outside the franchise and could affect free agency when LeBron James and Paul George are expected to hit the market, ESPN reported.
Colangelo is a two-time Executive of the Year Award winner and has served as a top executive in NBA front offices with three different teams – the Phoenix Suns, Toronto Raptors and 76ers.