Peyton Manning reportedly will announce retirement within week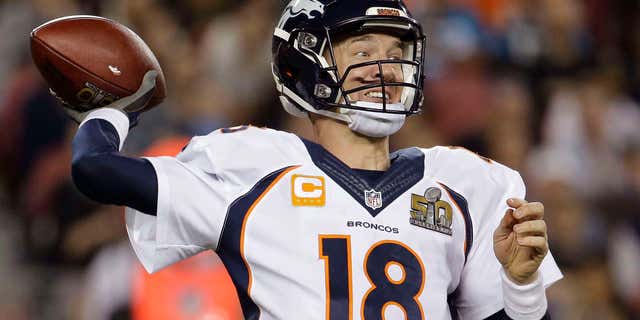 NEWYou can now listen to Fox News articles!
Denver Broncos quarterback and two-time Super Bowl champion Peyton Manning reportedly will announce his retirement within the next week.
Manning, who turns 40 next month, is not expected to continue his illustrious football career with another team as the Broncos look to move on by focusing their attention to backup Brock Osweiler, two sources told The Denver Post.
The plan to complete Manning's retirement decision was set in motion when he met with Broncos executive John Elway this past week, the Post reported.
The former No. 1 overall pick is coming off a Super Bowl win with the Broncos earlier this month. Denver defeated the Carolina Panthers 24-10. Manning was 13-of-23 passing with 141 yards and an interception in the game. Linebacker Von Miller won Super Bowl MVP.
Manning is arguably one of the greatest regular-season quarterbacks of all-time. He has amassed 71,940 passing yards and 539 touchdown passes in his 18-year career between the Broncos and the Indianapolis Colts -- both of which are NFL records.
He also won the Associated Press MVP award five times, including one in 2013 with Denver.
The Broncos acquired the future Hall of Fame quarterback after the 2011 season. Manning missed all of that season recovering from neck surgery. When the Colts decided to move on from Manning in favor of Andrew Luck, the free agent then chose to sign with Denver.
Forty-five wins and a Super Bowl championship later, it looks like Manning will ride off into the sunset with his head held high despite being named in a Title IX lawsuit against the University of Tennessee and his alleged link to HGH in an Al-Jazeera America report.
If Manning decides to turn around and decide against retirement, the Broncos are expected to move on from him. Fox Sports reported are not counting and his $19 million salary on the books for salary cap purposes.
Click for more from The Denver Post.