Peyton Manning: 'I was grateful to play for Coach Fox'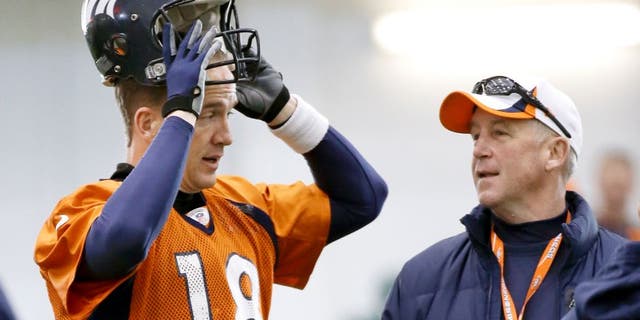 The last time the Denver Broncos made it to the Super Bowl, John Fox was the head coach. Although the Seattle Seahawks blew them out, 43-8, in that game, Broncos quarterback Peyton Manning remembers his time playing for him fondly.
Manning said Fox was one of the factors that lured him to Denver in the first place.
Via Patrick Finley of the Chicago Sun-Times:
Fox, who just completed a 6-10 season in his first year as the head coach of the Chicago Bears, was with the Broncos from 2011-2014 and compiled a 46-18 regular-season record during that span (3-4 in the playoffs). The team won the NFC West four years in a row under his leadership, but two of Denver's four postseason appearances resulted in Divisional-round losses that followed first-round byes.
Before his tenure with the Broncos began, Fox spent nine seasons with the Carolina Panthers (2002-2010). He took them to the Super Bowl, too, but lost to the New England Patriots, 32-29, in January of 2004.
Now entering his second season of a rebuilding project with the Bears, Fox aims to overcome past shortcomings and land his first Lombardi Trophy as a head coach in Chicago.