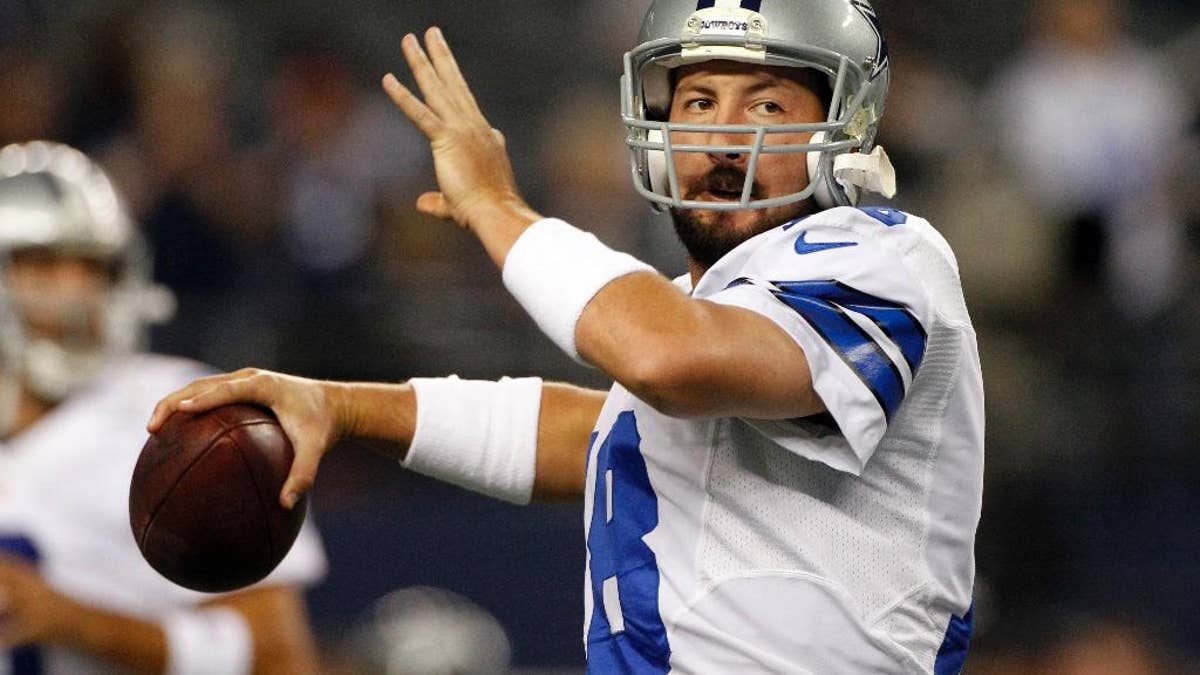 The Dallas Cowboys are releasing Kyle Orton after their backup quarterback missed all the offseason workouts amid reports he was considering retirement.
A person with knowledge of the decision told The Associated Press on Tuesday that the Cowboys were cutting ties with Orton slightly more than a week before the start of training camp. The person spoke on condition of anonymity because the team had not announced the decision.
The 31-year-old Orton started the finale last year after Tony Romo injured his back a week earlier. The Cowboys lost to Philadelphia, their third straight season-ending defeat against an NFC East rival with a playoff berth on the line.
The new backup is likely to be Brandon Weeden, Cleveland's first-round draft pick in 2012. The Cowboys signed Weeden in March, and he worked with the first team during the offseason while Romo continued his recovery from back surgery.
Orton was fined about $70,000 for failing to report during the offseason and missing the mandatory minicamp in June. The move saves Dallas about $3.25 million this season, but will cost the team about that amount on the salary cap over the next two seasons.
After getting into just one game in his first season with the Cowboys in 2012, Orton played briefly in two games last year before starting against the Eagles. He was 30 of 46 for 358 yards with two touchdowns and two interceptions against Philadelphia, including one late that clinched the Eagles' 24-22 win.
Orton has started 70 of 75 games in a nine-year career. He spent his first three seasons in Chicago before going to Denver, where he lost the starting job to Tim Tebow and signed with Kansas City after the Broncos cut him during the season.
Weeden started right away after the Browns took him with the 22nd pick, but was benched for good late in his second season with a career record of 5-15, including losses in all five starts in 2013.
Weeden turns 31 in October but is going into just his third season because he spent five years playing professional baseball out of high school.
___
Online:
AP NFL website: www.pro32.ap.org and www.twitter.com/AP_NFL
___
Follow Schuyler Dixon on Twitter at https://twitter.com/apschuyler