Perseverance pays off for Edwards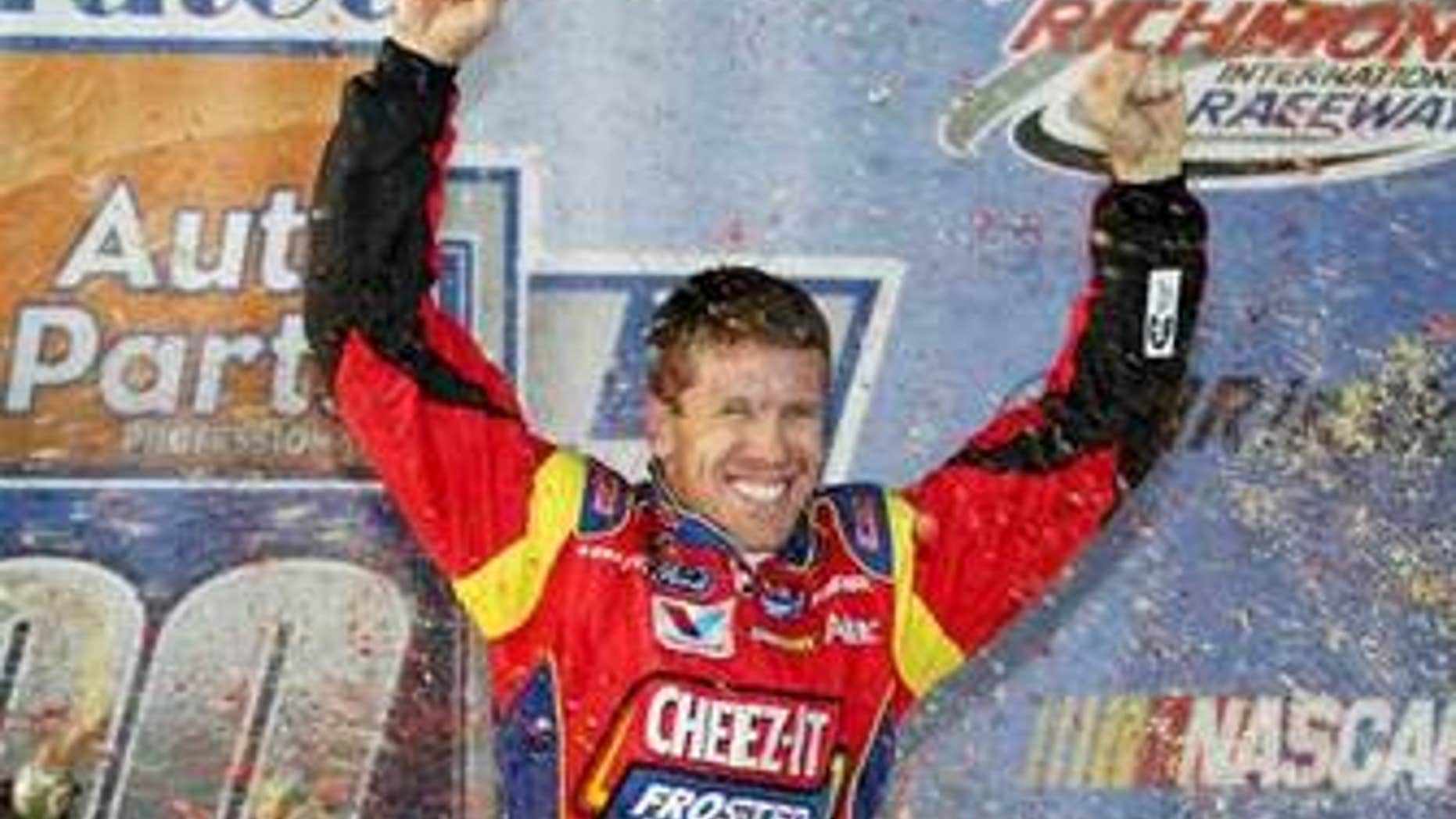 RICHMOND, VA. – Carl Edwards has struggled with restarts in the past at Richmond, but on Saturday night he nailed the final three-lap run to win the Federated Auto Parts 400.
The victory was the 21st career win for Edwards -- and his first since Phoenix in March, 23 races ago.
But more important, after a consistent yet understated run over the last seven months, Edwards' first Richmond win elevated him to the top of the standings -- before the drivers are reseeded once the points are recalculated to reflect wins.
Edwards credited his pit crew with providing him the track position to battle for the win.
"That's my pit crew that won this race for us," Edwards said. "It was just an awesome job by them. It was up at the beginning with [crew chief] Jimmy [Fennig] and our new team, and then we struggled for a little while, but the last three weeks have been great. We've led a bunch of laps and have had fast race cars and we're having fun."
Although Edwards was locked into the Chase prior to Richmond, that wasn't the case for second-place finisher Kurt Busch.
"The Outlaw" remained up on the wheel as he's done throughout his career. Early in the evening he was preoccupied with where Jeff Gordon was in the field. But after the issues of the No. 24 Chevy with a loose wheel early on, Busch simply had to maintain his ground with the front pack.
He led 73 laps and drove the No. 78 Furniture Row Racing Chevy to Chase for the first time in the team's eight-year existence. It's also the first time since the Chase debuted a decade ago that a single-car team outside of North Carolina will participate in NASCAR's playoffs.
"The way this team has grown, what we've been able to accomplish, it's an amazing feeling," Busch said. "We achieved something very special tonight. Barney Visser and his dream of a NASCAR Sprint Cup team, to be a competitive team, he deserves all the credit. Joe Garone, the general manager, all the people that he's aligned to help build this team.
"Then there's guys like (crew chief) Todd Berrier that are veterans of the garage that make big differences in small places like this. Everybody at the Furniture Row shop back in Colorado, it was a dream, now it's a reality.
"It's an amazing feeling to sit here at Richmond after such a long journey for myself, but to be able to deliver, to do my part along with these guys. I can't thank them enough."
Ryan Newman, who was in the lead -- and the Chase -- before Clint Bowyer spun out on Lap 393 to ignite the fifth and final caution, finished third, followed by Jamie McMurray and Paul Menard.
Bowyer said he "felt something going wrong ... and spun out." But his misfortune -- and 25th-place finish -- mired Newman in pit road traffic and enabled his Michael Waltrip Racing teammate Martin Truex Jr., who finished seventh, the second wild-card spot.
"We just kind of got lucky," Truex said. "Newman was really fast tonight. We tied him. Crazy how it went down. Every time I asked all night where we were, we were out. I just quit asking, just kept working on the race car, trying to get it better. Never gave up."
Truex, who was racing with a cast after fracturing his right wrist at Bristol two weeks ago, resented any implication of team orders.
"I didn't even know it happened until after the race," Truex said. "I had no idea. I raced my (butt) off all night long. That's all I can do. I tell my crew chief what my car is doing, what I need to go faster.
"That was enough to worry about. I don't have to worry about any other people out on the race track."
Truex wasn't the only driver who benefited from Bowyer's miscue. The last-race shuffle enabled Joey Logano to scramble from 25th to a 22nd-place finish. Those three positions provided Logano with a one-point cushion over Jeff Gordon, who missed the Chase for just the second time in his career.
"I love you, Clint," Logano gushed. "Thank you."
With the way Edwards' relationship has jelled with Fennig this season and the momentum the team has built over the last month, the driver of the No. 99 Roush Fenway Racing Ford is convinced, "We're gonna win the championship."
"That's our mission," said Edwards, who enters the Chase fifth in the point standings. "That seemed like a crazy idea about a month and a half ago, but Jimmy and these guys have buckled down. Everybody back at the shop, all the guys building these race cars, all of our Ford teammates -- Brad, Joey and all the Penske guys -- everybody has rallied together.
"I can't say enough about (general manager) Robbie Reiser, (engineers) Bob Osborne, Chip Bolin, all the guys at the shop. We've got two guys in the Chase. ... This championship would mean the world to me. The next 10 weeks, we're gonna be on them hard. They're gonna know we're here."
NO. 1 DANCE CARD
When the dust settled at Richmond International Raceway, Matt Kenseth's five wins in the first 26 races of the 2013 Sprint Cup season propelled him to the top seed for the Chase.
Kenseth, who finished sixth on Saturday night, led five laps throughout the race and remained a contender throughout most of the event. But ever since the 41-year-old veteran joined Joe Gibbs Racing, the No. 20 team, led by crew chief Jason Ratcliff, has shown its potential to challenge for the title.
"Proud of my team for putting us here," Kenseth said. "We've really had a terrific 28 weeks, led some laps, fortunate enough to win some races, excited to be up on top. Looking forward to Chicago and kicking off."
Despite a few hiccups with engines this season, Kenseth always rebounded. Since the sixth race of the season, at Martinsville, he has remained among the top 10 in the point standings.
Although Jimmie Johnson held on to the second seed, the 2013 Chase marks the first time that four Toyotas qualified for the playoffs. Kyle Busch, who finished 19th, tied Johnson with 2,012 points but is seeded third on a tie-break. Michael Waltrip Racing drivers Clint Bowyer and Martin Truex Jr., will line up eighth and 12th, respectively at Chicagoland.
Fourth-place Kevin Harvick and fifth-place Carl Edwards each have two wins and 2,006 points. Joey Logano and Greg Biffle line up sixth and seventh, respectively, in the standings, with one win and 2,003 points, while the winless teams of Bowyer, Dale Earnhardt Jr. and Kurt Busch round out the top 10.
Because Kasey Kahne and Truex ended up in the wild-card spots, neither driver receives bonus points for their wins in the first 26 events.
DADDY DEAREST
Fatherhood might agree with Jimmie Johnson, but Richmond International Raceway did not on Saturday night.
As Johnson celebrated the arrival of his second daughter, Lydia Norriss, in Charlotte on Friday, Regan Smith set up the No. 48 Lowe's Chevy and qualified the car.
When Johnson arrived on Saturday, he was forced to start at the rear of the field and was lapped 71 circuits into the race. His problems were compounded by a speeding penalty on Lap 92 and then an electrical issue on Lap 220 that forced Johnson behind to the garage.
Johnson returned to action but slammed the wall on Lap 343. He finished 40th, 28 laps off the pace. It was Johnson's fourth consecutive finish of 28th or worse, and his second 40th place since Michigan in the last month.
"It was definitely a bad run tonight," Johnson said. "When I look at the Chase and the tracks that are in the Chase, those are the tracks that we're really good at historically. When I look at August, August is normally tough on the 48 -- and this year it was once again."
With the points reset to reflect Johnson's four wins, he's currently second in the standings, three points behind Matt Kenseth.
"I'm not pleased with where we're at, but I'm still very confident and feel that going into the Chase it's a clean sheet of paper for everybody and we're going to be where we need to,'' he said.
"People can speculate and wonder all week long, but I really look forward to getting to Chicago and showing people what this team has in it."
SOCIALIZING
After Jeff Gordon missed the Chase by one point, he tweeted: "Thanks to all the fans for your continued support. Through tough times and good times."
NUMBERS GAME
0 -- Teams from Stewart Haas Racing in the Chase. It's the first time since the organization debuted five years ago that at least one of the SHR cars didn't qualify for the playoffs.
3 -- Pit Road violations for Juan Pablo Montoya on Saturday night at Richmond: the first, on Lap 137 for lugnuts not installed; the second, on Lap 269 for speeding entering the pits; the third, on Lap 273 for disobeying a NASCAR request. Montoya still salvaged a 16th-place finish.
142 -- Laps led by Brad Keselowski -- although the defending Cup champion finished 17th.
SAY WHAT?
Dale Earnhardt Jr. had a front-seat view for the Clint Bowyer's late race faux pas -- and questioned the sincerity of the move:
"He just spun right out," Earnhardt said. "That's the craziest thing I ever saw. He just came right around. He got where we're going into, through 3 and 4, and I don't know if they can put up his brakes and his gas. We got all the technology. But he was hemming around on the brakes and jerking the car around, and then the thing just spun out. It was crazy. I don't know what was going on. It was right there, I almost run into it, so I'm glad we were able to get out of there without any trouble."
SAY WHAT? II
Flanked by Chase veteran Clint Bowyer and Matt Kenseth, Joey Logano was subjected to a bit of rookie hazing in the post-race celebration:
"We're taking him snipe hunting tonight," Bowyer said.