Perry hopes strong March previews long spring run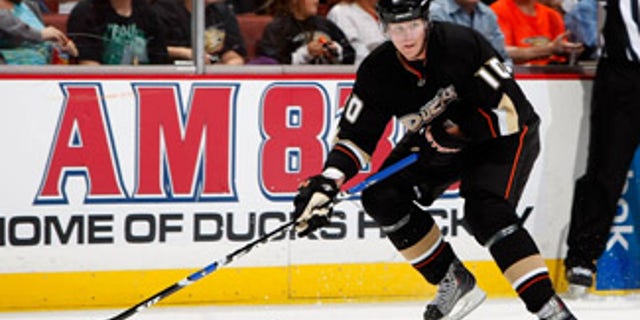 Everyone is having a hard time explaining Corey Perry's hot streak in March.
And that includes Corey Perry.
"You just go into every game expecting to play well," said Perry, who was named the NHL's First Star for March on the strength of his 15 goals in 14 games. "Things happened in March that don't happen very often. It's one of those things where you go out, play your game and see what happens. Hopefully there's more to come."
The Anaheim Ducks feel the same way. Perry's individual success has coincided with the team's ascension in the Western Conference standings. The Ducks entered March in 11th place, three points out of eighth; they finished March in seventh place with 93 points, six points clear of ninth place and just two points behind fourth-place Phoenix.
Perry started March as just another good player who many fans couldn't pick out of a lineup. Thirty-one days later, he leads the NHL in goals with 46 and has a realistic chance of winning the Hart Trophy if he continues to impress over the final two weeks.
It's a pretty amazing emergence for the 25-year-old right wing from Peterborough, Ont., who had never scored more than 32 goals in a season. Consider some of these jaw-dropping accomplishments for Perry this season:
* He leads the League with 23 third-period/overtime goals, which equals the season totals of snipers Dustin Penner of the Los Angeles Kings and Marian Hossa of the Chicago Blackhawks.
* Of his 46 goals, 24 either have given the Ducks a lead or tied a game. The Ducks are 14-4-3 in those games.
* He is just the fifth player since January 1997 to score 15 goals in a month, joining Jaromir Jagr, Pavel Bure, Joe Sakic and Alexandre Burrows.
* If he can get to 50 goals, he'll be the first player since Keith Tkachuk in 1996-97 to score 50 and register at least 100 penalty minutes.
On March 9, Perry was 10 goals behind Steven Stamkos of the Tampa Bay Lightning for the League lead. Today, he's answering questions about scoring 50 and taking home the Rocket Richard Trophy.
"I don't know if you can ever say that. You have to have a lot of great bounces and teammates to play with," Perry said. "I give a lot of credit to them. Recently, it's been going well. I'm just trying to help the team win. That's all I'm worried about.
"It's tough not to think about it. You never know what can happen. We'll see how it goes."
As long as what is becoming considered the best line in hockey -- Ryan Getzlaf centering Perry and Bobby Ryan -- continues to produce the way it has all season, Perry scoring four goals in the Ducks' final five games is a good possibility.
Ryan (33 goals, 33 assists), Getzlaf (18 goals, 51 assists) and Perry (46 goals, 43 assists) aren't the highest scoring trio in the NHL, but they might be the most dangerous as a group. In Vancouver, the Sedins usually play with Burrows; in Tampa Bay, Stamkos and Martin St. Louis are joined by either Teddy Purcell or Steve Downie. Those lines for the Canucks and Lightning have more combined points, but each player isn't equally as dangerous as Ryan, Getzlaf and Perry.
Their chemistry has resulted in a career season for Perry, who has returned to the sniping form he showed in the Ontario Hockey League when he scored 87 goals over his final two seasons with the London Knights.
"I think I'm playing the same way I did back in London. The puck's going into the back of the net," Perry said. "I've got to give a lot of the credit to Ryan and Bobby. They have done everything they can do, and they are finding me and I'm just trying to get open in the slot, and things are going in the back of the net."
It also helps to have one of the game's greatest goal scorers in the locker room in Teemu Selanne, who at 40 is looking like he could play for 10 more years. Selanne has 28 goals in 68 games and his 76 points rank him ninth in the League.
But it's not anything Selanne does on the ice that Perry is trying to emulate -- it's what the veteran does behind the scenes that's important.
"I mean, just the way he trains himself off the ice. Just watching him over the past six years has been enough for me," Perry said. "You know, he comes in every day with a smile on his face. He loves the game, and the way he works in practice is truly amazing at 40 years old.
"It doesn't seem like he's aging at all, and hopefully he comes back for a couple more years."
The Ducks still have an outside shot at catching the Sharks for the Pacific Division title and would need to win in San Jose on Saturday to have a chance at making up the six-point deficit. That's a pretty stellar accomplishment considering the Ducks opened the season 4-7-1 and the Sharks are 24-4-4 in their last 32 games.
"They are playing well," Perry said. "They are healthy, and we are playing well and we are healthy. It's going to be a lot of excitement. It's going to be fun and we are trying to get the fourth, fifth seed. So you never know what can happen.
"Nobody wants to start the season the way we did. We have gone through some tough stretches. I think we know what it feels like and we don't want to go back there. So going into the playoffs, I think that's just going to help us. "
Follow Dave Lozo on Twitter: @DaveLozo