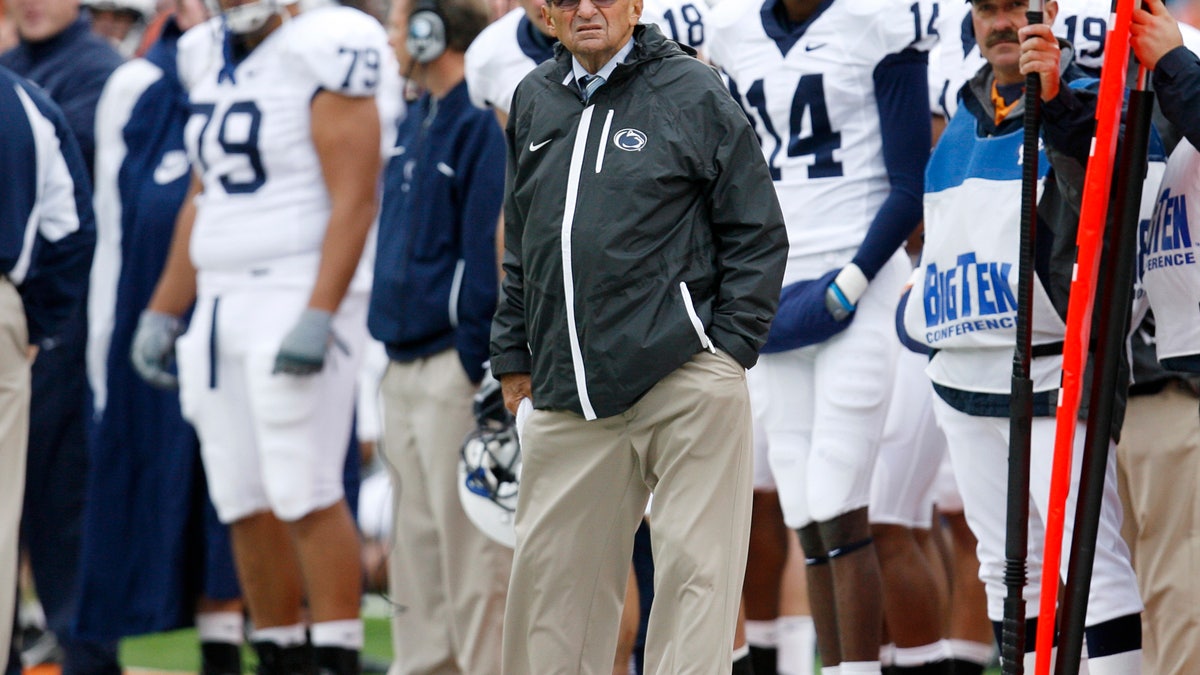 Penn State paid tribute Saturday to Joe Paterno on the 50th anniversary of his first game, despite criticism that the ceremonies are insensitive to victims in the university's sex abuse scandal.
Early in the second quarter in the matchup with in-state rival Temple, Beaver Stadium announcer Dean DeVore directed an announced 100,420 fans' attention to two high-definition video boards for a two-minute video featuring highlights of Paterno's career.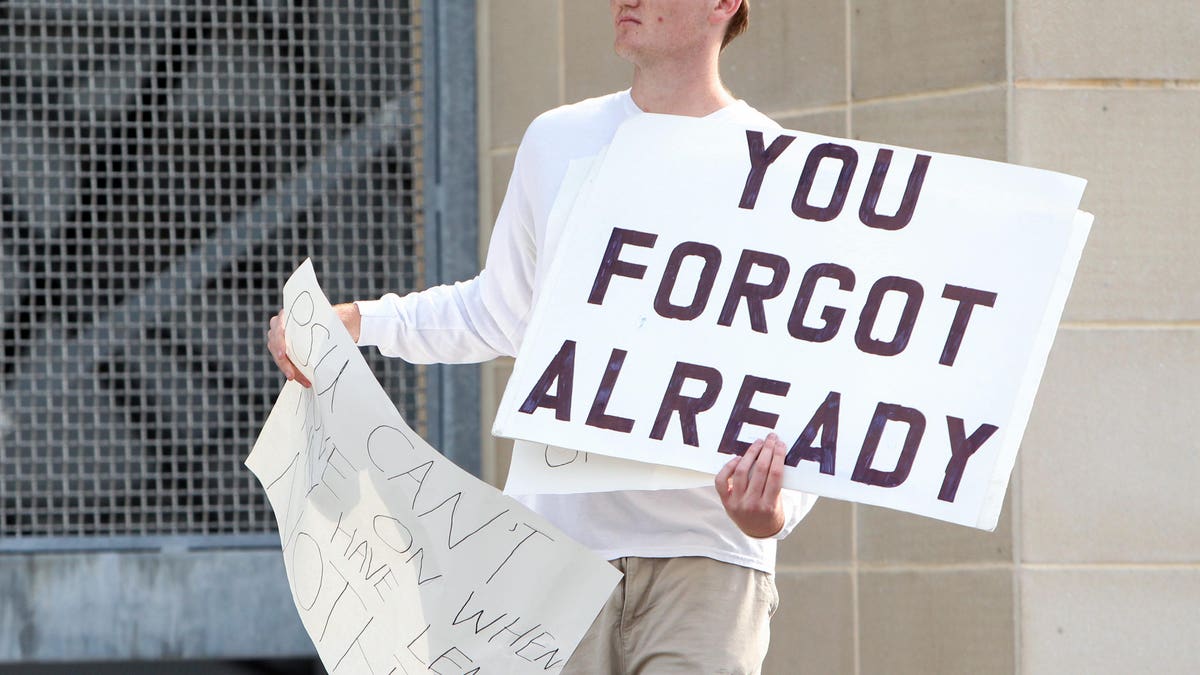 Another video played in the third quarter, this one dedicated to Paterno and his widow Sue, and it featured their $4 million donation put toward expanding the library and local hospital.
As soon as Paterno's familiar image -- shirt and tie, thick glasses and rolled-up pants-- appeared, fans erupted and kept cheering as DeVore read from a statement highlighting Paterno's commitment to student-athletes and academics.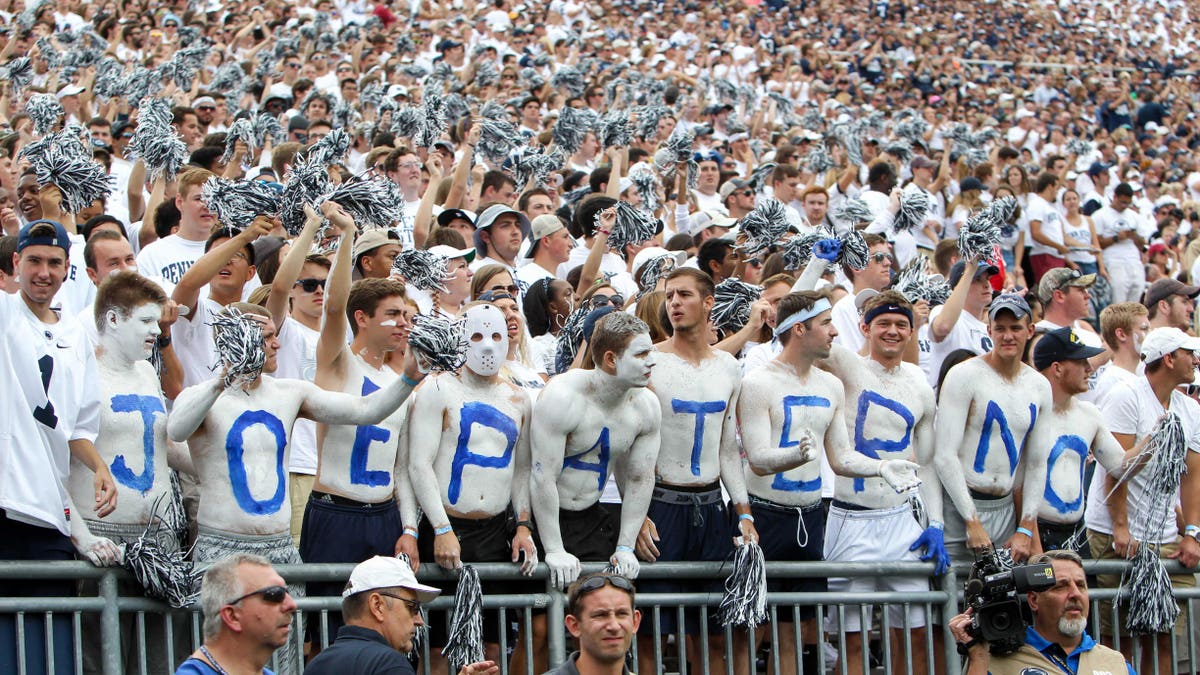 "Before he became head coach in 1966, Joe Paterno spoke about recruiting more football players who were exceptional students," DeVore said. "He was determined to bring to Penn State students who could earn a world-class education and graduate and play football at the highest level."
Paterno's "Grand Experiment," which placed emphasis on academics and proved athletes could also be top students, is a source of pride for Penn Staters who credit Paterno for giving the university an identity to be proud of.
The weekend's festivities, including a non-university event to commemorate the coach organized by Paterno's family and former players on Friday night, have fueled debate over whether Paterno should be celebrated in any way after his role in the Jerry Sandusky scandal.
Sandusky coached on Paterno's staff for three decades until 1999. Paterno said before his death from lung cancer in 2012 that, with the benefit of hindsight, wished he'd done more to stop Sandusky.
In May, unsealed court documents said a victim complained to Paterno about Sandusky in 1976 and was rebuffed. The university's president, Eric Barron, has said the allegation was not substantiated in court or tested by any other process.
Sandusky was convicted on 45 of 48 charges in June 2012 and is serving a 30- to 60-year sentence. Paterno was never charged with a crime related to the scandal.
Tom Kline, the attorney for the first of Sandusky's victims to reach a settlement with Penn State, said in a statement that those celebrating Paterno's accomplishments should remain mindful of his role in the scandal.
"While Penn State has chosen to officially celebrate the achievements of Joe Paterno, of which there have been many, no one should forget the failings which caused so much pain and anguish to the victims of Jerry Sandusky who have suffered so much for so long," Kline said.
Moving forward has proven a difficult challenge for Penn State, requiring leaders to balance distancing the university from the scandal while juggling the wishes of Paterno's ardent supporters who believe he was a scapegoat.
Prominent former players have led the defense of their coach, whose career included 409 victories, the most in college football history. But it ended with a phone call from the board of trustees who fired him amid the Sandusky scandal.
Former Pittsburgh Steelers star Franco Harris said Friday that Penn State's acknowledgment of Paterno's achievements was a "good first step" but said he'd like to see a formal apology to the Paterno family from the board of trustees.
"I don't tie the two together," Harris said Friday. "There's the board of trustees and there's Penn State. There should be an apology for the way they handled it. I think they handled it wrong and I think they got bad advice from the lawyers and the lawyers got it wrong and they handled it wrong."
He and fellow Penn State star Lydell Mitchell stood at the site where a statue of Paterno was removed by the university shortly after the scandal broke and talked with fans before Saturday's game. Fans left bricks, homemade signs and took pictures. One woman wiped a tear from her eye as she placed a brick at the site about two hours before kickoff.