Penguins-Sharks rematch, four outdoor games highlight NHL's 100th season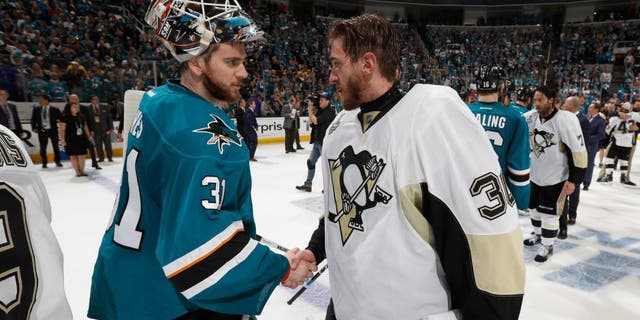 NEWYou can now listen to Fox News articles!
The National Hockey League is kicking off its 100th season on Oct. 12 with four games, including an Edmonton Oilers - Calgary Flames face-off in the Oilers' new arena, Rogers Place, the NHL announced Tuesday.
The Stanley Cup champion Pittsburgh Penguins will raise their fourth championship banner before taking on the Washington Capitals at Consol Energy Center the next day. And the San Jose Sharks will have a chance at a Finals rematch when they face the Pens again on Oct. 20 (and host the Penguins on Nov. 5).
The 1,230-game regular-season schedule, which was released on Tuesday, is jam-packed, thanks to a late start because of the World Cup and a bye week for each team.
Back-to-backs and stretches of three games in four days are more common than ever before because of the condensed schedule. The season runs from Wednesday, Oct. 12, to Sunday, April 9, which at 180 days is almost a week shorter than 2015-16.
Four outdoor games are also highlighted this season: The Winnipeg Jets and Oilers will play at the 2016 Tim Hortons NHL Heritage Classic on Oct. 23; the St. Louis Blues will play the Chicago Blackhawks in the Bridgestone NHL Winter Classic in St. Louis on Jan. 2; the Pens will face off against the Philadelphia Flyers on Feb. 25, 2017, at the Coors Light NHL Stadium Series; and the Toronto Maple Leafs will host the Detroit Red Wings on New Year's Day in the first-ever NHL Centennial Classic, which will kick off a year-long celebration of the league's 100th anniversary.