Payet stays relaxed at Euro 2016, despite rising expectation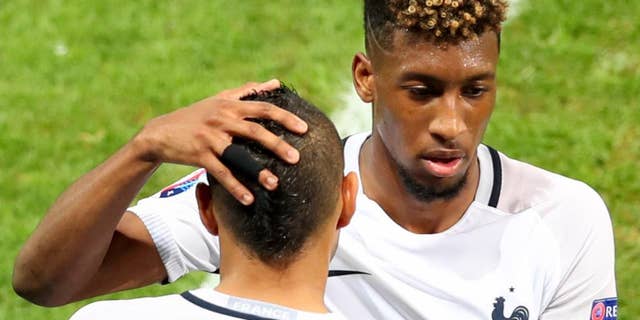 NEWYou can now listen to Fox News articles!
PARIS – The burden of bailing out France's misfiring attack at the European Championship has yet to affect Dimitri Payet.
With forwards Olivier Giroud, Antoine Griezmann and Anthony Martial managing just one goal in three games between them, France is relying too heavily on Payet. But as the expectation level grows, the attacking midfielder is staying as relaxed as possible.
"It would be stupid to ruin it all by putting myself under pressure for no reason," he said. "I want to enjoy myself on the pitch."
He has made his mark at Euro 2016 with spectacular late goals against Romania and Albania, largely compensating for the fact that Giroud, Griezmann and Martial have all been fluffing chances — most of them created by Payet.
"We need to kill games off ... We've got to start putting them away," Payet said, adding that he still sees "Germany and Spain" as the tournament favorites.
"(They) are a bit above the rest," he said. "They have the potential to go all the way."
In the 0-0 draw with Switzerland on Wednesday, Payet almost won the match late on when he hit the crossbar with a cleanly-struck volley.
When coach Didier Deschamps recently said he wanted to "freeze (Payet) in ice" it showed how desperately he needs him injury-free.
He will be France's key player in the last 16 of the tournament on Sunday against one of the third-place finishers from Groups C, D or E.
"People believe in me and they expect things from me; which counts a lot," Payet said. "I think I can still improve."
Payet's 22 caps for France are spread over six years, underlining how the 29-year-old was often considered too inconsistent.
The West Ham player credits his late rise to the English Premier League — he joined from Marseille last year — but not because of its famed attacking football.
"A lot of the physical contact is right on the limit," he said. "You're playing against a big European club every couple of weeks and you have to be ready, so I think the level of the Premier League prepared me for international standards."
When he steps out onto the pitch at Stade de Lyon on Sunday, it will feel particularly rewarding because he once feared he would never play in France — let alone for the national team.
After failing a trial with unheralded Le Havre in 2003, he took the 11-hour flight home to the French Reunion Island in the Indian Ocean.
"When I went back, I'd given up on playing again in France," Payet said. "I didn't think I'd be here today, but I was lucky enough to get a second chance."
Nantes gave him that, signing him for the 2005-06 season, but the scrawny teenager played only three games as a substitute.
He scored four league goals for Nantes the following campaign.
But it was only four seasons later that his scoring talent started to become evident, as he netted 13 league goals in a season for Saint-Etienne. He got his first international call up in 2010 and, following a spell with Lille alongside Chelsea star Eden Hazard, joined Marseille in 2013.
But in his two seasons there Payet gave only fleeting glimpses of the player he is now.
"I've come a long way and I want to make the most of it now," Payet said.