Pats third-string QB Jacoby Brissett shows off his wheels on 27-yard TD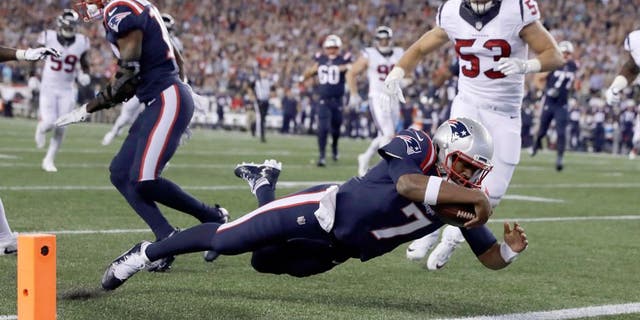 The New England Patriots just plug in new QBs and find ways to score.
On Thursday night the Pats' new starter was third-stringer Jacoby Brissett, who relieved Jimmy Garoppolo after he was injured in Week 2.
The rookie hasn't shown he has Garoppolo's arm or passing skills, but he showed off his wheels in scoring the Pats' only touchdown of the first half.
Brissett had five carries for 41 yards in the half; the Texans had 52 rushing yards as a team. Brissett also completed 5 of 8 passes for 59 yards as he leaned on his strong defense in taking a 10-0 halftime lead.