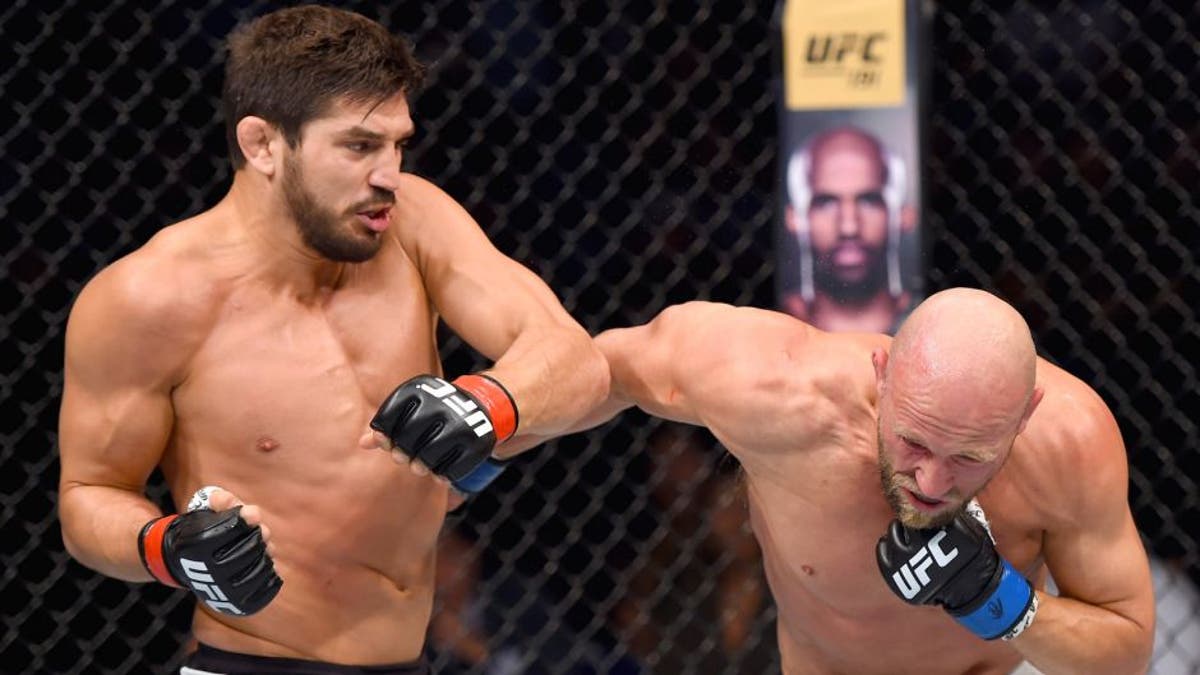 Before Patrick Cote was a veteran with nearly 20 UFC fights on his resume, he was a young up and comer from Canada just itching to get noticed.
During the early parts of his career starting in 2002, Cote was able to get experience and fights locally in his home country before eventually getting the call to join the UFC less than two years after he first debuted.
Fast forward to 2015 and Cote is still going strong in his own career, but Canadian mixed martial arts is a much different landscape than it was 10 years ago or even five years ago when the country seemed to be producing some of the best young fighters in the sport.
Many of the most famous Canadian fighters are now retired and while there are definitely some talented newcomers still being produced, Cote admits he's saddened to see the state of MMA in his home country these days.
"The province of Quebec was a Mecca of mixed martial arts in Canada. We were producing a lot of good fighters," Cote told FOX Sports. "All those guys who had success in the UFC, they fought in Quebec. Mark Hominick, Sam Stout, me, David Louiseau, Georges (St-Pierre) and now it's hard.
"We still have a lot of good guys coming up. We've got Olivier Aubin-Mercier, Elias Theodorou, Chad Laprise, those guys are good but they are already in the UFC. Developing those new kids, it's hard in Canada right now."
There are certainly more than a few rabid fans in Canada who would point the finger at the UFC for largely abandoning the country over the last few years as the reason why the once thriving scene there has seemingly dried up.
When St-Pierre was still fighting, Canada played host to some of the biggest cards of all time including UFC 129, which once held the attendance record for the promotion with more than 55,000 fans in attendance in Toronto.
More recently, however, the UFC has stayed away from putting marquee cards in Canada outside of two events featuring the flyweight title being defended and it doesn't appear the market is the vital landing spot it once was for the organization.
But Cote cautions fans from his home country to avoid placing the blame on the UFC for no longer traveling to Canada as the reason why the talent pool there has become so shallow in recent years. He actually looks to the regional fight scene -- a once thriving industry in Canada that's virtually disappeared lately -- as the reason why young Canadian fighters are no longer gaining the valuable experience they had when he was first coming up.
"It's hard to develop young guys because we don't have any serious organizations to develop those kids," Cote said. "Before there were a couple of organizations and you were able to fight around the country and put some wins on our records and show that what we are able to do. Now it's very, very hard.
"We don't have any serious organization to build the next generation. That's the biggest problem here."
When Cote was first fighting, a promotion known as TKO put on shows primarily in Quebec and it was a breeding ground for top young talent coming out of Canada. Cote cut his teeth there as did St-Pierre and many other fighters, but the promotion folded in 2008 and while there have been several other organizations that sprung up over the years, most of them have also shuttered their doors as well.
It's a disappointing development according to Cote, who hopes to see someone eventually reinvest in the Canadian fight scene while helping to find the pulse of a nation that at one time UFC president Dana White coined the phrase -- 'the Mecca of MMA'.
"TKO was a top five organization in the world at the time and that was a great place to develop talent. Times are rough," Cote said. "We just need somebody who is serious about it and not all about money because everybody knows when you start a new organization, you're not going to make a lot of money. The first couple of shows you're not going to make money and I'm not sure there's a real serious guy to do that right now."
Cote knows he might be the last man standing from the old guard from Canada, but he still has plenty of time left in his career and he's not planning on going anywhere. He hopes with a win this weekend over Ben Saunders he can make a hard charge towards the top 15 and nothing would make him happier than to one day return a title to the Great White North.
"We're not sure what's happening with Georges, but for a while now it was only me and Sam Stout that was left from the old Canadian MMA scene and Stout just retired. I feel like I'm alone in my corner as the veteran from the Canadian side," Cote said.
"I think I made a great statement in my last fight but that wasn't enough so I have to make another statement in my fight in Boston. I'm ready for Saunders, we're ready for him, nothing's going to surprise us. I wanted a guy in the top 15 for my next fight and they gave me Saunders, but that's OK. My job is to be in shape and fight the guy in front of me and win the fight."