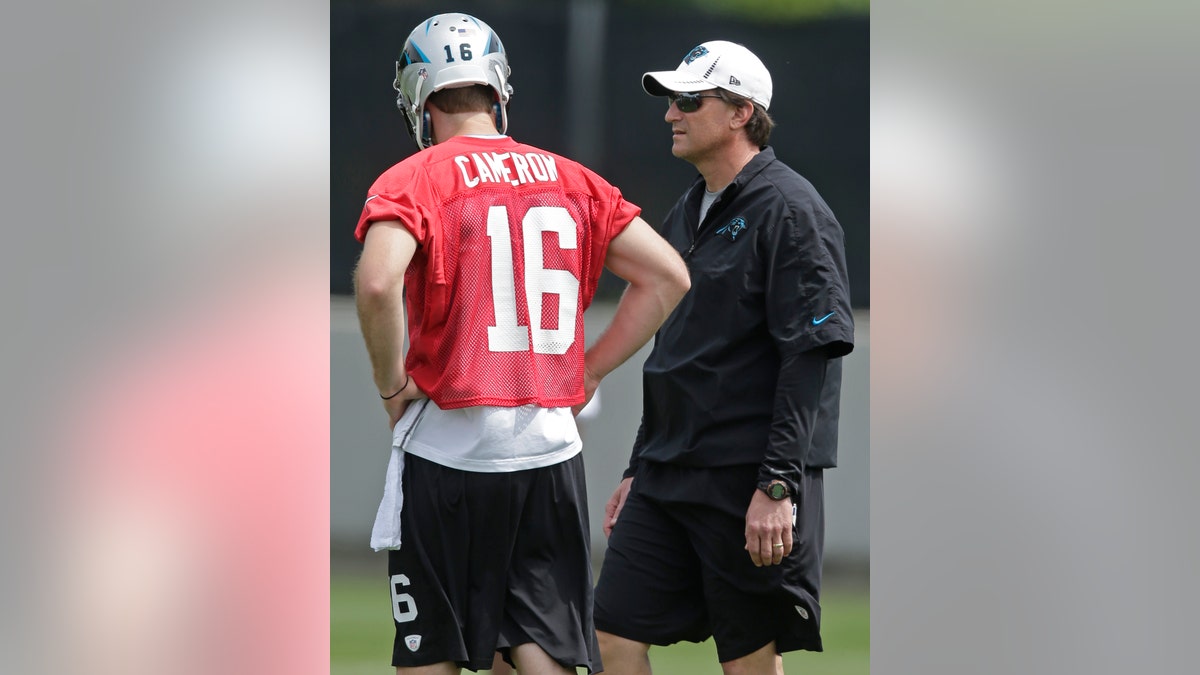 CHARLOTTE, N.C. – Carolina Panthers offensive coordinator Mike Shula believes Cam Newton is ready to take a big step forward entering year three, providing he can manage the ups and downs that come with the job.
Newton has shown that he has the physical skills to be an elite quarterback.
Now, Shula wants to see him take a step forward emotionally, specifically when it comes to handling adversity.
"Probably the biggest thing for him is maintaining that balance," Shula said. "Because everything around you during the football season is going to be up and down."
At times TV cameras have caught Newton moping on the sidelines and even teammate Steve Smith has called him out in the past for sulking on the sidelines.
Newton wasn't at the team's rookie minicamp this weekend, but has said in the past he needs to control his emotions and become a better team leader because he knows his teammates are watching him.
"The more you can continue to stay on an even plane and lead the group of guys around you, the more effective you are going to be as a quarterback," said Shula, who added that Newton has been one of his favorite players ever to coach.
Managing Newton's emotions is just one of Shula's responsibilities as he prepares for his first season as offensive coordinator with the Panthers.
He has to find a way to create more balance on offense and a way to keep a crowded backfield happy.
The Panthers have two former first-round draft picks in DeAngelo Williams and Jonathan Stewart, as well as another proven back in Mike Tolbert. On top of that, the Panthers drafted Oregon running back Kenjon Barner in the sixth round to work as a scat back.
"It's our job to know each player and what he does best and put him on the field doing what he does best," said Shula, who was promoted to offensive coordinator after Rob Chudzinski left to become coach of the Cleveland Browns.
It is a bit of a struggle when you're trying to get all of those guys involved. The number one thing is make first downs and keep the ball. ... you do that by having a good mix."
Along with improving the overall balance of the offense, Shula is also looking to establish more continuity on the offensive line.
Of course much of Carolina's offense is centered around Newton, who has thrown for 7,920 yards and 40 touchdowns and run for 1,447 yards and 22 touchdowns in his 32 starts for the Panthers.
Shula said his focus will be on making sure Newton continues to progress in his decision making ability.
"We want him to make quick decisions -- and the right decisions -- and get the ball out," Shula said. "That helps the receivers and the offensive line and keeps people off of him. I think he's gotten better each year. I feel better about him now than I did last year. You can't substitute anything for the experience he's gotten. The ups and downs. You are going to be better because of it. As we feel like we have guys surrounding him that are poised to have really good years."
Panthers coach Ron Rivera said part of the reason he promoted Shula to offensive coordinator was because of Shula's relationship with Newton and he wanted didn't want to affect the continuity on offense.
Rivera said he spoke recently with a number of veteran players and they like Shula's approach to the offense.
"The big thing is now that he's had an opportunity to look at the guys and use it to the best of his ability," Newton said. "I think going into our third season and Cam having the type of offseason he has this season is going to be really exciting."
As for the offense itself, Shula said Newton will still be used as a ball carrier but wouldn't say how much the team will use the zone read option that Chudzinski used so frequently.
Newton carried the ball 127 times as a rookie and 126 times last year.
"You would be foolish to say you're not going to use it," Shula said. "We'll do things differently to keep things off balance."