Paige VanZant isn't targeting Joanna Jedrzejczyk until she's actually ready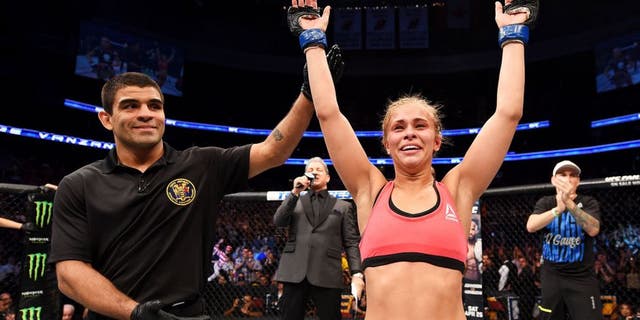 NEWYou can now listen to Fox News articles!
There's a strange balancing act that takes place whenever looking at Paige VanZant and her place in the UFC women's strawweight division.
On one hand, in just two fights VanZant finds herself planted at No. 7 in the strawweight divisional rankings, she's already competed on a FOX main card and defeated a veteran fighter in Felice Herrig, who is nine years her elder and has more than double the fight experience.
Then again, VanZant is just 21-years-old with a total of six fights on her record while her star is consistently rising with each appearance she has inside the UFC Octagon.
This weekend, VanZant faces Alex Chambers in a featured bout on the UFC 191 main card, where she will enjoy the biggest odds of anybody on the entire show. Some odds makers have VanZant listed as much as a 14-to-1 favorite.
To put that into context, Ronda Rousey was a 15-to-1 favorite in her last bout against Bethe Correia. The fight lasted 34 seconds.
But VanZant isn't trying to tout that she's some unstoppable wrecking machine while facing a doe-eyed opponent who will get caught in the bright lights of her star power and freeze up before the fight even begins. VanZant actually sees Chambers as a perfect next fight for her career because she's looking at the big picture where slow and steady wins the race.
"This is definitely a logical fight," VanZant told FOX Sports. "Me and her both beat the same girl in the same round. We both finished the same girl in the same round. In my last fight, I fought a girl who is a Muay Thai fighter. It's very well-known Felice Herrig is a Muay Thai fighter.
"This fight I'm going in and fighting a girl with a purple belt in jiu-jitsu. So it's going to be another stepping stone for me to beat a girl with a high level jiu-jitsu background before I can beat someone with an even better background than her. It's definitely another stepping stone for me and I'm definitely not going to overlook her."
While VanZant is planted at No. 7 in the rankings, Chambers is nowhere to be found in the top 15.
The 36-year-old Australian didn't leave many people breathless after a lackluster showing on "The Ultimate Fighter" two seasons ago, and Chambers fell short in her first bout in the UFC when she was submitted by former housemate, Aisling Daly. Chambers did show some scrappy spirit in her next fight against Kailin Curran to win by armbar, but the victory was snatched from the jaws of defeat after losing the first two rounds.
Regardless of her record, VanZant views Chambers as a dangerous opponent capable of winning even while staring down the face of defeat. It's a big reason why VanZant doesn't pay too much attention to rankings because on paper, she should walk through Chambers.
In reality, VanZant knows that Chambers could easily find a spot in the top 10 with a win at UFC 191, the same way she earned her ranking after beating Herrig in April.
"The strawweight rankings are not accurate at all right now," VanZant said. "They're going to consistently change. For me, I definitely see Joanna (Jedrzejczyk) and Claudia (Gadelha) being the top two for a while, but other than that I think the strawweight rankings are going to change a ton.
"We're going to see a bunch of fighters coming up from Invicta. We're going to see fights happen that will change the rankings. I just make sure I don't overestimate or underestimate any opponent I fight."
If VanZant is victorious on Saturday night, there are going to be a lot of potential matchups for her next fight. With her natural charisma and popularity, there might even be a few cries for VanZant to get into title contention in 2016.
As much as she would love to dethrone Jedrzejczyk and win the UFC women's strawweight title, VanZant is also smart enough to know she's not ready for that just yet. VanZant wants to not only earn a title shot, but ensure that she's truly prepared whenever it happens.
Right now, with two UFC fights on her resume and a third being added this weekend, VanZant is confident enough to say now is not the time.
"For me it's when I'm feeling ready. I'm going to take this journey on my own pace. This is my career and I'm not going to let pressure from outside sources push me into a fight that I'm one, not ready for, or two, just don't want. So I'm going to take what steps are right for me," VanZant answered when asked about pressure to face someone like Jedrzejczyk sooner rather than later.
"It kind of seems like things are falling into place. The next step kind of just happens. That's what happened with this fight. I definitely think that I'm going to take this at my own pace but I'm definitely ready for whoever the UFC throws at me."