Pagano goes old school to combat Colts' fumbling problem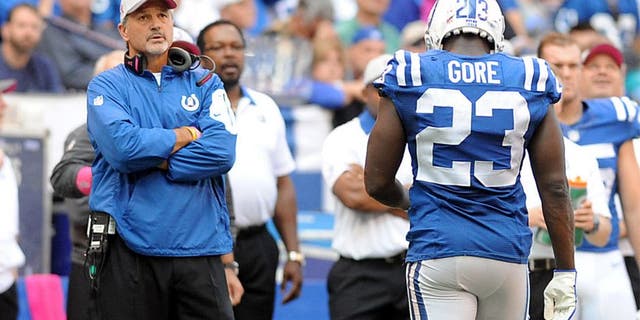 NEWYou can now listen to Fox News articles!
Fumbling has been an issue for the Indianapolis Colts all season and coming off a game in which the team fumbled three times resulting in two turnovers, head coach Chuck Pagano said he's getting back to basics with his team.
Per ESPN's Mike Wells, Pagano has instructed his players to protect the football in practice all the way up until the point they hand it back it to the official.
"What our goal is, we want to finish every play snap to whistle," Pagano said. "And when you hear the whistle the play is over. It's dead. In practice take the ball back and hand it to an official just like old school. Could be an equipment guy out there spotting the ball. Take the ball, get off the ground with the ball and hand it to an official, hand it to somebody. Possess the football when the play is over."
The Colts have lost five fumbles this season, including two by running back Frank Gore and one by quarterback Andrew Luck.
We'll see if the team's new practice habits pay off with better results when the Colts take on Houston Thursday night.
MORE NEWS: Want stories delivered to you? Sign up for our NFL newsletters.