Padres relieved at Shawn Kelley's injury diagnosis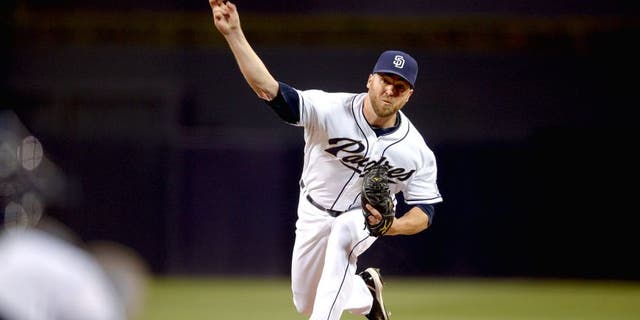 Out of the three players that left the San Diego Padres' game on Tuesday with injuries, Shawn Kelley's was the most concerning, but the team received reassuring news about the reliever on Wednesday.
Kelley left Tuesday's game after he experienced tightness in his forearm while throwing warm-up pitches on the field.
The Padres held their breath for Kelley's diagnosis, as he has previously had elbow issues that forced him to have Tommy John surgery, and there was a chance the tightness he was experiencing in his forearm was related to a potential elbow injury.
However, to the relief of Kelly and the Padres, he was diagnosed with a "nerve issue down the side of his forearm" on Wednesday, per the San Diego Union-Tribune.
"It's not his elbow, which is good," assistant general manager Josh Stein said.
Kelley has had a solid first season with the Padres, and is on pace to finish with a career-best season.
In 48 appearances this season, the 31-year-old right-hander has maintained a 2.72 ERA with 55 strikeouts against 13 walks in 46 1/3 innings pitched.
(h/t San Diego Union-Tribune)