Packers Snap Counts: Packers used 5 defensive backs often against Lions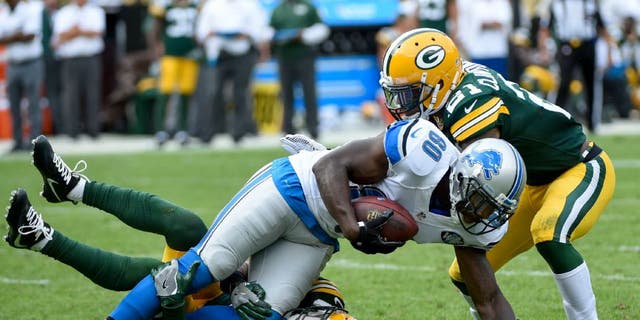 Yeah, so maybe people will stop doubting Aaron Rodgers.
The Packers quarterback threw four touchdown passes as Green Bay downed the Detroit Lions at Lambeau Field on Sunday, 34-27.
Green Bay amazingly scored all of its points on just 54 offensive snaps -- and the defense didn't provide any scores -- which is the lowest amount of snaps for the offense so far this season (the Packers had 64 against Jacksonville and 71 at Minnesota).
Some other notes from Sunday's snap counts:
-- Ha Ha Clinton-Dix has played every snap on defense this season.
-- The Packers used five defensive backs often. In addition to Clinton Dix, Quinten Rollins and Micah Hyde were in for all but one play, LaDarius Gunter was in on all but five plays and Damarious Randall was on the field 84 percent of the time.
-- With Clay Matthews sidelined, Joe Thomas had 38 snaps (56 percent) and Kyler Fackrell 37 snaps (54 percent). Fackrell had played just seven snaps in each of the first two games.
-- For the first time this season, Jordy Nelson played the most snaps of any wide receiver (49, or 91 percent). He was in on 96 percent of the snaps in Week 2 and 84 percent in Week 1.
-- The injury to Jared Cook altered the tight end plan, for sure. Cook had the most snaps of any tight end in both Weeks 1 and 2. Against the Lions, Richard Rodgers was in on 80 percent of the plays -- his previous high was 51 percent against Minnesota. Justin Perillo had played just three offensive snaps all season (all coming in Week 2) but got in on 17 snaps vs. the Lions, three more than Cook.
-- There was a report that Green Bay would try more of a "speed" look with rookie Trevor Davis and Ty Montgomery. Davis did play in his most snaps, but it was still only 12 (22 percent) while Montgomery was in on just four snaps.
-- Meanwhile, Davante Adams' playing time took a hit, down to just 25 snaps (46 percent). He had been in on 92 percent and 76 percent of the snaps in the first two games. Jared Abbrederis never saw the field on offense. He had 14 snaps (22 percent) in Week 1 and 6 snaps (8 percent) in Week 2.
Here's the complete breakdown of offensive and defensive snaps for the Packers vs. Detroit:
| | | |
| --- | --- | --- |
| | GAME 3: LIONS (OFFENSE) | |
| PLAYER | Plays (54) | % |
| Taylor | 54 | 100% |
| Bakhtiari | 54 | 100% |
| Bulaga | 54 | 100% |
| Tretter | 54 | 100% |
| A. Rodgers | 54 | 100% |
| Lang | 54 | 100% |
| Nelson | 49 | 91% |
| R. Rodgers | 43 | 80% |
| Cobb | 42 | 78% |
| Lacy | 38 | 70% |
| Adams | 25 | 46% |
| Perillo | 17 | 31% |
| Cook | 14 | 26% |
| Davis | 12 | 22% |
| Starks | 12 | 22% |
| Ripkowski | 11 | 20% |
| Montgomery | 4 | 7% |
| Janis | 3 | 6% |
| | | |
| --- | --- | --- |
| | GAME 3: LIONS (DEFENSE) | |
| PLAYER | Plays (68) | % |
| Clinton-Dix | 68 | 100% |
| Rollins | 67 | 99% |
| Hyde | 67 | 99% |
| Gunter | 63 | 93% |
| Randall | 57 | 84% |
| Ryan | 56 | 82% |
| Perry | 51 | 75% |
| Daniels | 46 | 68% |
| Clark | 42 | 62% |
| Thomas | 38 | 56% |
| Fackrell | 37 | 54% |
| Peppers | 32 | 47%% |
| Martinez | 30 | 44% |
| Elliott | 28 | 41% |
| Ringo | 24 | 35% |
| Brice | 12 | 18% |
| Lowry | 11 | 16% |
| Price | 10 | 15% |
| Hawkins | 7 | 10% |
| Banjo | 2 | 3% |
Dave Heller is the author of the upcoming book Ken Williams: A Slugger in Ruth's Shadow as well as Facing Ted Williams Players from the Golden Age of Baseball Recall the Greatest Hitter Who Ever Lived and As Good As It Got: The 1944 St. Louis Browns