Packers Snap Counts: Believe it or not, Peppers played a lot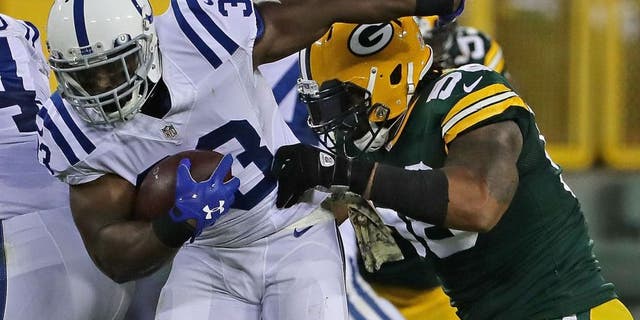 Before last week, Julius Peppers had yet to play half of the defensive snaps in any game (49 percent against Dallas had been his most).
With Clay Matthews sidelined with a hamstring injury, Peppers played 73 percent of the snaps against Atlanta. Against the Falcons he had but one tackle, although it was a sack, and also had one quarterback hurry.
With Matthews out again this past Sunday against Indianapolis, Peppers was in on a season-high 50 snaps (74 percent). However, once again he didn't exactly fill the stat sheet, recording just one tackle (and it wasn't even a solo tackle).
Unfortunately, such performances are becoming commonplace as Peppers has only eight tackles on the season with a game-high of two (done twice). Of course, in those games he had far fewer snaps.
Some other notes from Sunday's snap counts:
-- A healthy Davante Adams was on the field nearly the entire game, playing 66 of 69 offensive snaps (96 percent). He was targeted eight times, finishing with four catches for 41 yards and a touchdown.
-- After experiencing a slight downtick in playing time, tight Richard Rodgers appeared in 71 percent of the offensive snaps, his highest total since the fourth game of the season. He had 10 targets with six receptions for 64 yards.
-- Center Corey Linsley played in every offensive snap in his 2016 debut. The entire Packers' starting offensive line played every snap for the first time since the fourth game vs. the Giants.
-- Ty Montgomery and Randall Cobb returned to the lineup, but neither played in half the snaps. Cobb didn't play in the first half, but still finished with 23 snaps (33 percent). Montgomery was in on 31 snaps (45 percent). The last time he played, against the Bears, Montgomery played 60 snaps (69 percent).
-- Speaking of returns, cornerback Quinten Rollins was back after missing two games. He played in 62 defensive snaps (91 percent).
-- Rookie linebacker Blake Martinez was in on a season-high 81 percent of the defensive snaps. He had seven tackles, second-most on the team.
-- Safety Marwin Evans played his first defensive snaps of the season, getting in on three plays.
-- Safety Ha Ha Clinton-Dix still has played on every defensive snap this season.
Here's the complete breakdown of offensive and defensive snaps for the Packers vs. the Colts:
| | | |
| --- | --- | --- |
| | GAME 8: COLTS (OFFENSE) | |
| PLAYER | Plays (72) | % |
| Bulaga | 69 | 100% |
| Lang | 69 | 100% |
| Bakhtiari | 69 | 100% |
| Taylor | 69 | 100% |
| Linsley | 69 | 100% |
| A. Rodgers | 69 | 100% |
| Adams | 66 | 96% |
| Nelson | 63 | 91% |
| R.Rodgers | 49 | 71% |
| Janis | 44 | 64% |
| Montgomery | 31 | 45% |
| Cobb | 23 | 33% |
| Ripkowski | 22 | 32% |
| Perillo | 22 | 32% |
| Jackson | 13 | 19% |
| Allison | 7 | 10% |
| Davis | 5 | 7% |
| | | |
| --- | --- | --- |
| | GAME 8: COLTS (DEFENSE) | |
| PLAYER | Plays (68) | % |
| Clinton-Dix | 68 | 100% |
| Gunter | 68 | 100% |
| Burnett | 68 | 100% |
| Rollins | 62 | 91% |
| Martinez | 55 | 81% |
| Ryan | 55 | 81% |
| Hyde | 53 | 78% |
| Peppers | 50 | 74% |
| Perry | 50 | 74% |
| Jones | 46 | 68% |
| Daniels | 41 | 60% |
| Guion | 35 | 51% |
| Brice | 24 | 35% |
| Clark | 22 | 32% |
| Pennel | 17 | 25% |
| Fackrell | 14 | 31% |
| Thomas | 13 | 19% |
| Lowry | 5 | 7% |
| Evans | 2 | 3% |
Dave Heller is the author of the upcoming book Ken Williams: A Slugger in Ruth's Shadow as well as Facing Ted Williams Players From the Golden Age of Baseball Recall the Greatest Hitter Who Ever Lived and As Good As It Got: The 1944 St. Louis Browns