Pac-12's unbeaten ranks to go down by at least 1 with Arizona playing at No. 2 Oregon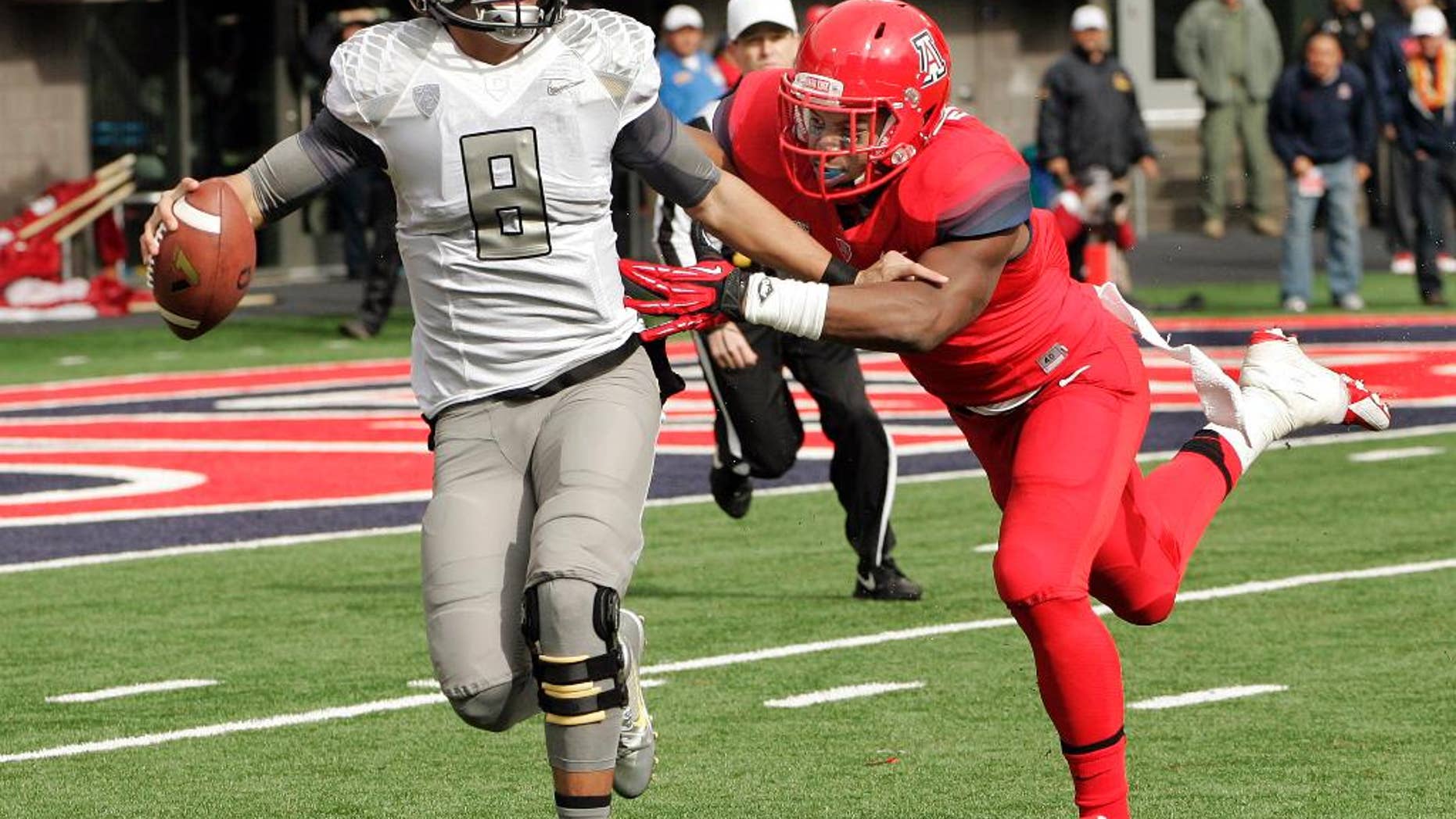 PHOENIX – The FBS is down to 17 unbeaten teams, a number that will be reduced by at least four this week after match-ups between undefeated teams.
Three of the four games are expected to be close: Oklahoma-TCU, Alabama-Ole Miss and Mississippi State-Texas A&M all have spreads of six points or less.
One game between unbeatens is being projected as a rout and it's in the Pac-12 on Thursday night.
That's when Arizona heads to Eugene to face No. 2 Oregon. Both are 4-0
According to the Glantz-Culver line, the Wildcats are 23-point underdogs.
The Ducks know better.
A year ago, Arizona quashed Oregon's national-title hopes by routing the Ducks in Tucson. Two weeks ago, the Wildcats spoiled California's big night with a 36-point quarter capped by Anu Solomon's Hail Mary pass to Austin Hill on the final play.
That spread, means absolutely nothing to Oregon.
"They're 4-0 and have a great offense and just came off a great comeback win," Oregon cornerback Ifo Ekpre-Olomu said. "So they're going to have a lot of confidence and they know what they're capable of doing."
The conference's other undefeated team, No. 8 UCLA, faces a tough challenge if it wants to remain unbeaten, playing Utah Saturday at home.
The Bruins (4-0, 1-0 Pac-12) crushed Arizona State on the road last week in Tempe, finally living up to the preseason hype surrounding them after three average wins to start the season.
But UCLA still has some work to do on defense and are facing an offense led by Travis Wilson that's balanced and physical.
"They've got a physical offensive line, they've got really good running back and at the same time, they've got a quarterback that when he gets hot, he gets hot and he's got some good receivers to throw to," UCLA offensive coordinator Jeff Ulbrich said. "For a defense that's as hungry as ours is right now and as eager as these guys are to show the world who they are and what they want to become, it's a great challenge for us."
___
MIKE LEACH AND THE END OF THE WORLD
Washington State coach Mike Leach has always had a unique, if not quirky perspective on things, whether it's his fascination with pirates or writing a book on leadership based on research he did about Geronimo.
This week, Leach predicted how the world will end and, as expected, it's pure gold.
"I'm not really that good with technology. All this button-pushing and whatnot. I mean, you can just imagine based on what's happened in the last 15 years. Conversations won't happen 10 years from now. There aren't going to be people to talk to, it's going to be like this (mimics pushing buttons) 'Do you want to go on a date with me? I don't know, what do you look like? Well, I kind of look like this. OK, what are your interests? Well, what do you think my interests are? Looking into this thing and typing into this just like yours are. 'Yeah, no kidding, that's what everybody's doing. Well, where do you want to go? Well, what difference does that make?'
"Because all we're going to be doing is looking into machines anyways. Well, that's true and in the end, it's going to be tough to perpetuate the species. There's no question about that. So we're all going to look into this box and eventually be extinct. That's how it ends."
Yes, it does.
___
NOTES AROUND THE PAC-12
USC running back Tre Madden started participating in individual drills this week after missing the first four games with turf toe, but said the digit is still pretty sore, leaving his status for Saturday's game against Arizona State still up in the air. ... Washington coach Chris Petersen doesn't sound like he's quite ready to switch quarterbacks after sophomore Cyler Miles struggled against Stanford — 98 yards on 15-for-29 passing against Stanford — saying he needs to be coached better and given more time in the pocket to complete plays. ... Arizona State was solid on defense through its first three games before its youth was exposed in last weekend's blowout loss to UCLA. The Sun Devils struggled with tackling in that game and have been giving up big plays all season, allowing a play of 40 yards or more 10 times. That side of the ball, obviously, will be a point of emphasis for the Sun Devils' coaches heading into Saturday's game against USC.