Pac-12 South still with plenty of questions to answer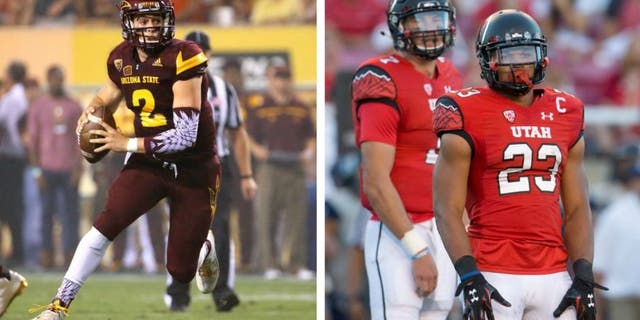 NEWYou can now listen to Fox News articles!
PHOENIX -- The Pac-12 North appears to be down to a two-team race. Stanford has yet to lose in conference and California is a game behind, though Washington may make a push before season's end.
The Pac-12 South has two teams in similar positions atop the standings, though that race just feels a lot more convoluted after a series of surprising outcomes and a new team atop the division.
To sort some of it out, here's a rundown of the teams in the South and where they stand:
UTAH
Record: 5-0, 2-0.
Outlook: Picked to finish fifth in the division, the Utes have made a surprising run into national relevance. Utah beat Michigan in coach Jim Harbaugh's debut in its opener, a game that looks better each week as the No. 12 Wolverines climb up the polls, and made a huge impression by blowing out Oregon at home. The Utes are up to No. 4 in the AP Top 25 and received 16 first-place votes, second to top-ranked Ohio State's 27. Utah has a huge game this weekend against Arizona State, the team directly behind it in the standings.
What's left: Arizona State, at USC, Oregon State, at Washington, at Arizona, UCLA, Colorado.
ARIZONA STATE
Record: 4-2, 2-1.
Outlook: The Sun Devils appeared to be in the fail-to-live-up-to-expectations category after opening with a loss to Texas A&M, getting two mediocre victories, then being blown out at home by USC. The Sun Devils righted themselves with a road victory over then-No.7 UCLA and were dominant against Colorado last week. Arizona State is starting to play its best football of the season and looking more like the team coach Todd Graham said is the best he's had. A win over Utah this weekend would be a huge boost toward the Sun Devils' goal of winning the South.
What's left: At Utah, Oregon, at Washington State, Washington, Arizona, at California.
UCLA
Record: 4-1, 1-1
Outlook: The Bruins looked like the team to beat in the South after knocking off a tough BYU team in its final nonconference game, then blowing out Arizona on the road to open Pac-12 play. The victory in the desert vaulted the Bruins to No. 7 in the AP Top 25, but they dropped after losing to Arizona State by 15 on Oct. 3. UCLA still is a dangerous, talented team, so don't be surprised if it makes a run at the division title.
What's left: At Stanford, California, Colorado, at Oregon State, Washington State at Utah, at USC.
ARIZONA
Record: 4-2, 1-2.
Outlook: The Wildcats roared through their soft nonconference schedule before falling flat to open the Pac-12 season. Arizona was blown out at home by UCLA, then by Stanford on the road. Arizona got back to high-scoring ways in a rout over Oregon State, but may have the toughest road of any team in the South since it has to play 12 straight games without a bye week.
What's left: At Colorado, Washington State, at Washington, at USC, Utah, at Arizona State.
SOUTHERN CALIFORNIA
Record: 3-2, 1-2.
Outlook: The Trojans appeared to be in trouble after losses to Stanford and Washington, and now the bottom could fall out with the firing of coach Steve Sarkisian. The troubled coach was fired Monday after being put on leave the day before when he showed up to school in no condition to lead practice. The Trojans could rally around interim coach Clay Helton, but it's a heavy load to carry when a coach is fired midseason.
What's left: At Notre Dame, Utah, at California, Arizona, at Colorado, at Oregon, UCLA.
COLORADO
Record: 3-3, 0-2
Outlook: For all the progress the Buffaloes have made -- their three wins already surpass last season's total -- they still struggle in Pac-12 games. A 15-point loss to Arizona State was Colorado's 11th straight in conference and 13th straight on the road in the Pac-12. The Buffaloes could be turning a corner in their third season under coach Mike MacIntyre, but a Pac-12 South title won't be in the cards this season.
What's left: Arizona, at Oregon State, at UCLA, Stanford, USC, at Washington State, at Utah.