Pac-12 South champ Arizona doesn't mind 4th-place forecast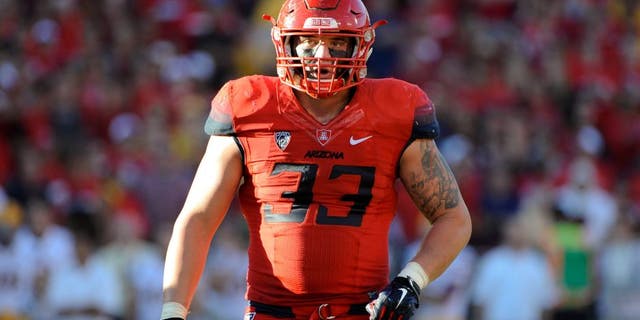 BURBANK, Calif. -- Arizona's 2014 season was the physical manifestation of the Twitter hashtag Pac12AfterDark: wildly unpredictable and wildly entertaining.
The Wildcats needed a Hail Mary to beat California, clock mismanagement to beat Washington and a fourth-down stop to beat rival Arizona State. They would have come up with another seemingly improbable win if a last-second field goal against USC had not gone wide right.
That string of results, combined with too much drama elsewhere in the Pac-12 South to even list, was enough to take Arizona to its first division title, its first appearance in the conference championship game and a berth in the Fiesta Bowl. It is also a reminder of how chaotically close the division will be again this year.
"You never know what can happen," receiver David Richards said Friday at Pac-12 media day. "Two Hail Marys in a season, I'd like to see the last time that happened. Each game is going down to the fourth quarter, going down to the edge."
With that mantra in mind, Arizona isn't sweating being picked to finish fourth in the South this season. The Wildcats were picked to finish fourth last season as well, and they weren't even close to naming a starting quarterback at this time last year.
"I think we were all in the dark with that one," Richards said. "They went into camp and competed, and the best guy won."
The best guy was Anu Solomon, who passed for 3,793 yards and 28 touchdowns as a redshirt freshman. Now Solomon is bigger, faster, stronger and better prepared to capitalize on an underrated attribute for a quarterback, coach Rich Rodriguez said.
"One of the strengths I think he has, which is kind of a new quality, is that when we do have an open guy he usually finds him and hits him," Rodriguez said.
"I always use the story of Shaun King, who played for me at Tulane and we went undefeated that year," Rodriguez added. "In that year, he never missed an open touchdown throw. In other words, you call a play and it matched up right and the guy is going to be open for the touchdown, and the quarterback missed him or he underthrew it or overthrew it, I think Shaun was 100 percent that year. And Anu is not 100 percent, but he's pretty good with that."
With so many close games in the Pac-12, Solomon's ability to get those sure touchdowns proved to be vital.
"You can go out there and get beat any week, so you can't take that drop off or think, `Oh, we're playing this team so we can get by,'" Richards said. "You have to go out there and play 100 percent every game."
Solomon wasn't in attendance at Warner Bros. Studios, nor was standout junior linebacker Scooby Wright.
Rodriguez said he prefers to bring seniors to media days, and joked the omission might be enough to convince Wright to return for his final season at Arizona.
"I thought maybe if I didn't bring him, he would want to come here so bad next year that he'd come back for his senior year," Rodriguez said.
Though Solomon and Wright weren't in attendance, their presence has Arizona thinking about bigger goals.
"Last year we were knocking on doors," safety Will Parks said. "This time it's about time to kick them down."
And maybe create a new hashtag or two along the way.