Ovi's goal can't get Caps a win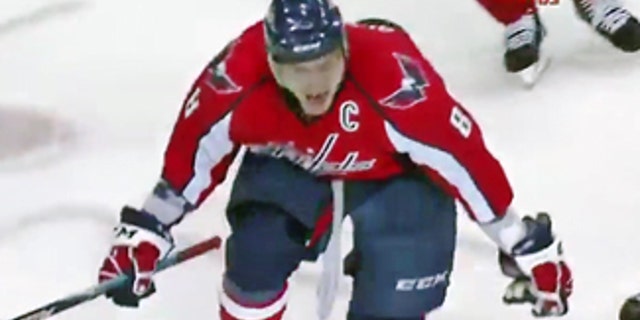 NEWYou can now listen to Fox News articles!
WASHINGTON -- When Alex Ovechkin sent Game 2 of this Eastern Conference Semifinal series to overtime with a dramatic goal, it appeared another great memory in his career was unfolding.
As it ended up, Ovechkin's heroics were for naught as Tampa Bay's Vinny Lecavalier scored 6:19 into overtime on Sunday night to give the Lightning a 3-2 victory and a 2-0 lead in this series.
"It seemed like it was lining up like that -- you could see the story being written there and what was going to happen," Mike Knuble said. "We were pretty excited coming in here and ready to play. They're a little bit shorthanded with guys injured and we felt our depth would pay off especially if the game went longer, but we didn't get that far."
Ovechkin rallied the Capitals from a 2-1 deficit by scoring with 1:07 remaining in the third period. Tampa Bay defenseman Victor Hedman tried to get the puck out of his zone but didn't get enough on his clearing try.
After the Caps cycled the puck, Jason Arnott slipped a pass to an onrushing Ovechkin, who buried it past Dwayne Roloson.
It was the second straight year Washington needed a goal with less than two minutes to play in regulation to avoid going down 2-0 in a series at home. John Carlson got Washington to overtime in Game 2 against Montreal last spring and Nicklas Backstrom scored 31 seconds into overtime.
This time, the sixth-attacker goal didn't produce a win. Instead, the series moves to Tampa with the Lightning having the chance for a sweep.
"We have momentum and we have couple chances to score goals [in overtime] but we make mistakes and they have 2-on-1 and they score," Ovechkin said.
Added defenseman Karl Alzner: "I think we all felt pretty excited about it. We've been in a situation like and won a few games in overtime before. That's kind of our time. We play pretty good in that situation. It was just a bad change, a long change there ... and a good goal."
Ovechkin had five shots on net in Game 2, up from two in Game 1, but he's also had 11 shots blocked in the series – and he took a high-sticking penalty that led to Lecavalier's power-play goal with 59 seconds left in the first period.
While the Lightning have received strong contributions from Lecavalier and Martin St. Louis, the Capitals need more from Ovechkin if there is going to be a comeback in this series like the one he tried to spur in Game 2.
"I can play better. Everybody can play better," Ovechkin said. "Especially when we have opportunities to shoot the puck and they try to block the shots -- like I try to score goals. I didn't change my game. I just play how I can."
Added Capitals coach Bruce Boudreau: "I don't think he's wasting a lot of energy. He's not getting a lot done. It is not hard to put defensemen against forwards. It is an easy matchup and [Eric] Brewer is doing a pretty good job on him."