Outkick's Top Ten For Week Six 2015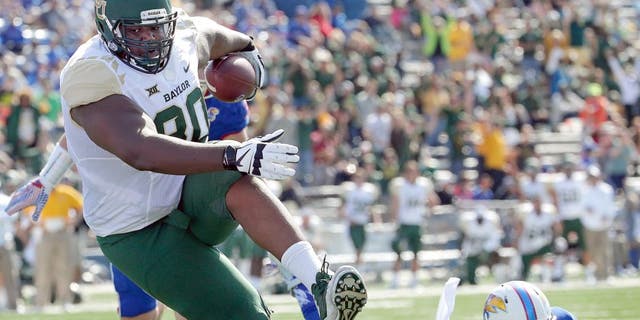 NEWYou can now listen to Fox News articles!
What a mess this season is going to be.
You know how crazy some years with the BCS were. Imagine what those years would have looked like with four teams in the playoff.
Anyway, here are my top ten teams in the country. As a refresher, which many of you won't read, I only judge teams based on what they do on the field. That is, I don't consider their preseason expections, just the on field results.
So here we go with Outkick's top ten.
1. Utah
The Utes were far from perfect tonight -- what happens, for instance, if Goff only has four interceptions instead of five? -- but they beat another undefeated opponent. Judging teams based entirely on what we've seen on the actual field, Utah should be the unanimous number one team in the country.
Now do I think that Utah is running the table in the Pac 12 regular season?
Maybe. After all, Utah only has one top 25 team left on the schedule all year, UCLA, near the end of the season.
2. Baylor
I know Baylor hasn't beaten anyone of substance this year, but they have demolished every team on their schedule. Right now I believe Baylor's offense is better than anything else any other team does on either side of the ball. I took the Bears at 11-1 to win the title this week and I'm convinced they won't lose in the regular season this year.
Put it this way, I'm more confident that Baylor will be in the playoff than I am that any other team will be in the playoff this year.
3. Texas A&M
The Aggies had the week off to get ready for Alabama. I think they'll beat the Tide.
It's time for the nation to meet Kyle Allen.
4. Florida
Give Jim McElwain's Florida Gators credit. I thought they would be a six or seven win team this year because I didn't think with their offensive line issues and offensive playmaker woes under Will Muschamp for the past several years that there was any way they'd be able to score points. I was wrong.
Since the final seven minutes of the Tennessee game, Florida has been playing light's out football. So much so that the Gators are close to locking up the SEC East. Already at 4-0 in the SEC, with head-to-head wins over Tennessee, Missouri, and Kentucky all the Gators have to do is split LSU and Georgia and then beat South Carolina and Vandy and they're in Atlanta.
5. Clemson
The Tigers dispatched Georgia Tech with ease. Now can they take care of business against teams they should beat and continue to get better?
Before the season started my playoff picks were Ohio State, TCU, Georgia and Clemson. While three of these four teams are still alive, I feel more confident in Clemson than I do either Ohio State or TCU. The only top 25 team left on Clemson's schedule is Florida State.
6. LSU
The Tigers won a strange "home" game over South Carolina -- how empty did Tiger Stadium look? -- and Leonard Fournette continued to pad his Heisman lead. What's more, LSU even passed the football!
Now the Tigers gets their first real test of the 2015 season. What happens when the Florida Gators roll into town?
7. Michigan
The Wolverines have held three consecutive teams scoreless. That hasn't happened in college football in twenty years.
The Harbaugh Effect.
Right now the Wolverines are the best team in the Big Ten. I think they'll beat Michigan State and Ohio State in the Big House. That means that Michigan's a legit threat to make the playoff in Jim Harbaugh's first season.
Now the biggest fear for Michigan fans is this? Will Harbaugh decide dominating the Big Ten is just too easy for him?
8. Alabama
The Crimson Tide is the nation's second best one loss team. Win out and there is a 100% chance they'll be in the playoff. The only problem with that? The Tide's losing in College Station this coming week.
Oh, and nice punt fake, Bielema.
9. Iowa
I'm as shocked by this as you are. But Iowa has better wins than any of the other undefeated teams ranked beneath them.
Really, they do.
Also, this 6-0 start just got Kirk Ferentz another twenty year contract extension.
10. Ohio State
This is how bad my candidates for the top ten are, I have to put Ohio State in here. I have the Buckeyes above TCU, who hasn't been impressive all season except for against Texas, Stanford, whose loss to Northwestern is pretty hard to defend after what we saw Michigan do to them today, Cal, who played Utah to the wire today, and Florida State, who has played a truly awful schedule and failed to distinguish itself against those teams.
So there you go, the Outkick top ten.
Which, as always, is the best poll in the country.