Orlando Cabrera Gets 2,000, David Ortiz Sounds Off, and Francisco Liriano Flirts with No-No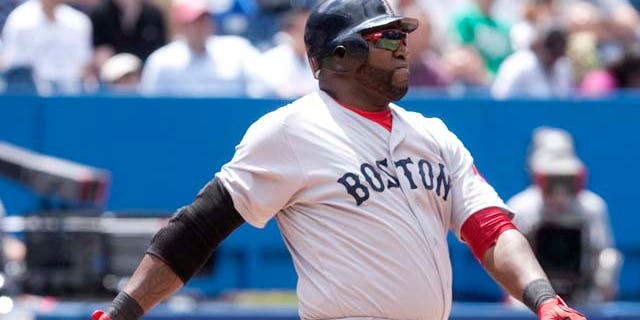 A weekly review of Latinos making news in the world of baseball.
O.C. JOINS THE 2000 CLUB
Orlando Cabrera got his 2000th hit during the Cleveland Indian's 9-1 loss to the New York Yankees on Sunday.
Cabrera, who was signed by Cleveland during the offseason, singled in the second inning past Derek Jeter. The ball took a tough bounce in front of Jeter, who is chasing the 3000 hit mark himself, and rolled out to left field.
"I'm very happy to get to have reached that number. It means longevity and durability and a little bit of luck to be in the league for a lot of years and to have the opportunity to play every day," Cabrera told Fox New Latino.
The Cartagena, Colombia, native has spent 15 years in the majors. He started out with the Montreal Expos in 1997, and has played for Boston, Los Angeles Angels of Anaheim, Chicago White Sox, Oakland, Minnesota and Cincinnati.
He was on the 2004 Red Sox team that won the World Series.
Indians manager Manny Acta said that Cabrera has been a great leader on this young Cleveland team, which is tied for first place with the Detroit Tigers in the American League Central.
"It's an excellent goal," Acta told Fox New Latino. "It says a lot about the work Orlando has put forth in his career. It means a lot that he's been able to play for a long time and have the success that he's had.
"It's difficult to get to and play at this level," Acta added. "Imagine how difficult it is to get 2000 hits. He can feel very proud about what he's done."
BIG PAPI BLASTS OFF
David Ortiz let his bat do the talking -- but also had a few words for the media after the Red Sox pummeled the hated the Yankees.
Big Papi battered the Yankees, homering twice, scoring four runs and driving in six RBI, leading Boston to a three-game sweep.
Beat writers in the New York papers and local sports talk radio hosts drummed up the idea that Ortiz – who had never been plunked by a Yankee pitcher during the regular season – needed to be hit, especially when Yankees first baseman Mark Texeira left a game after he had been hit by a pitch Tuesday night.
In the eighth inning of that game, Ortiz homered and then flipped his bat, angering manager Joe Girardi.
Thursday night, CC Sabathia delivered baseball's form of revenge by hitting Ortiz.
"I just want to thank [the media]. Not all of you, but some of you, for the stat today about me not being hit," he barked after the game. "I finally got hit. I hope you [expletive] are happy."
The Yankees had hit Ortiz only once during his 15-year career, during an at-bat in the 2003 playoffs.
He capped off the week by hitting two homers, scoring five runs and driving in seven runs in the Red Sox's three-game sweep of the Blue Jays in Toronto this weekend.
LIRIANO FLIRTS THIS TIME AROUND
Minnesota lefthander Francisco Liriano lost his bid for a second no-hitter this season, giving up a single to Texas' Adrian Beltre to lead off the eighth inning Sunday afternoon.
Liriano waited about 30 minutes to take the mound after Minnesota scored five runs in the bottom of the seventh inning. He was perfect through six before rookie third baseman Luke Hughes made a fielding error on Elvis Andrus' grounder.
The Twins beat the Rangers 6-1.
"Everything was working", the Dominican hurler said.
He allowed two hits, walked none and struck out a season-high nine in eight innings.
"I felt better today. Way better," Liriano said in reference to his no-hitter against the Chicago White Sox on May 3.
BACK IN THE MIX
Cincinnati's Edinson Volquez returned to the Reds after a brief hiatus to Triple-A Louisville, and won in his first start Tuesday night.
The Dominican righty was sent to the minors to work on his command after he was roughed up in start against Cleveland on May 22, giving up seven earned runs in 2.2 innings. After that game Volquez criticized his teammates, saying that they were not scoring any enough runs for him.
The Reds promptly sent him down. He eventually ironed out some things, going 1-0 in two starts with a 1.88 ERA in 14.1 innings pitched.
Volzquez held the Chicago Cubs to one run, seven hits, two walks and five strikeouts in the Reds' 8-2 win.
"I knew I needed it. I was cool. I wasn't mad," said Volquez to reporters about his demotion. "I had to do something."
SHUTTING IT DOWN
Joakim Soria got his closer's job back, and went 1-0 with two saves.
He picked up the win on Monday's 3-2 Kansas City win over Toronto.
Soria then saved Thursday's 3-2 victory over the Blue Jays and picked up another save on Friday night in a 4-2 win over the Angels.
He pitched four scoreless innings in the three games in which he appeared this week.
"I always felt good," Soria told MLB.com after he picked up the win Monday. "I'm hitting better spots now. I feel better in my command and that's a big key."
ON A ROCKY ROAD AT HOME
After picking up his first win of the season, Colorado's Ubaldo Jiménez came up winless in two starts last week.
Jiménez was on the short end of a 2-0 loss at San Diego on Tuesday night. He gave up two runs and six hits over seven innings. He walked none and struck out eight in the effort.
The Dominican ace of the staff is now a disappointing 1-7 this season after his loss Sunday against the Los Angeles Dodgers.
He lasted only 5.1 innings, giving up seven runs, two earned, in Colorado's 10-8 defeat to the Dodgers.
Jiménez is 1-2 on the road with a 2.06 ERA, but at home he is 0-5 with a 7.05.
Adry Torres, who has covered MLB, NFL, NBA and NCAA basketball games and related events, is a regular contributor to Fox News Latino. He can be reached at elpiloto137@gmail.com or follow him on Twitter: @adrytorresnyc.
Follow us on twitter.com/foxnewslatino
Like us at facebook.com/foxnewslatino