Lone Latino GM, Phillies' Amaro Continues to Pave the Way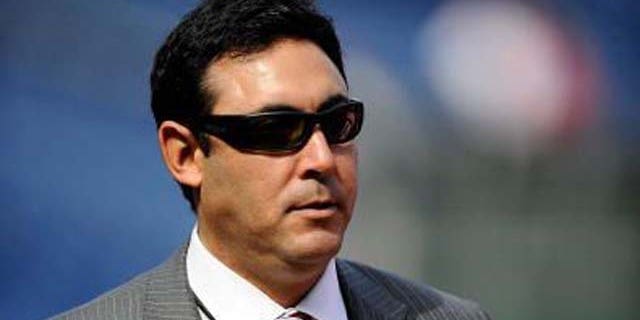 With the firing of Omar Minaya last week, there is just one Latino general manager left in Major League Baseball – and he happens to be doing one of the best jobs in the game.
Rubén Amaro Jr. runs the show for the Philadelphia Phillies, which advanced to the 2009 World Series and is favored by many to win it all this season. The team got off to a great postseason start last week with a no-hitter by Roy Halladay – the ace Amaro Jr. acquired in the off-season to anchor the pitching staff.
But Amaro Jr. – who became the club's general manager after they won the World Series in 2008 – is a last man standing, of sorts. The Philadelphia native with Cuban, Mexican and Jewish roots was only the second Latino GM in Major League history, and is the only such executive remaining.
"The general manager's position in sports has historically been the most difficult to diversify," said Dr. Richard Lapchick, who directs the University of Central Florida's Institute for Diversity and Ethics in Sport.
The small fraternity of general managers became less diverse last Monday when the New York Mets cut ties with Minaya, who in 2002 became the first Latino GM when he joined the now-defunct Montreal Expos.
"He's a gentleman, and to me, he's still someone I look up to in this industry," Amaro Jr. told New York's Newsday. "He's always been supportive of my career."
Now that leaves Amaro – a third-generation baseball lifer whose father was shortstop for the Phillies, and whose grandfather played in Cuban pro leagues – as a role model for young Hispanic executives.
Lapchick said diversity watchdogs shouldn't hit the panic button yet.
"At this moment, this is something to keep you an eye on," he said. "But it doesn't signify a trend."
Major League Baseball has 19 Latino senior vice presidents and vice presidents, according to Lapchick's "2010 Racial and Gender Report Card: Major League Baseball." By comparison, the National Football League had no Latino executives and the National Basketball Association had six. Neither league has ever had a Latino general manager, according to the report.
Diversity in baseball depends on the success of its trailblazers. Minaya's Mets were one game away from the 2006 World Series, and Amaro has continued the Phillies' success the last two years.
"I think he's good at what he does," said Dr. Jeff Shultz, an assistant provost at Arcadia University, who teaches a course called "Baseball and Béisbol: The Evolution of Race and Ethnicity in the Major Leagues." "The pressure on him would be greater for someone without those credentials."
Marv Schneider, a retired Associated Press sports writer who has done lectures on the influence of Latinos in baseball, said the recent diversity on the field and in dugouts will eventually make its way upward to the front offices.
"There's no question about it," Schneider said. "As the second and third generation of ballplayers come through the system, they're going to get more executive jobs."