Orioles closer Zach Britton has no idea why Buck Showalter didn't use him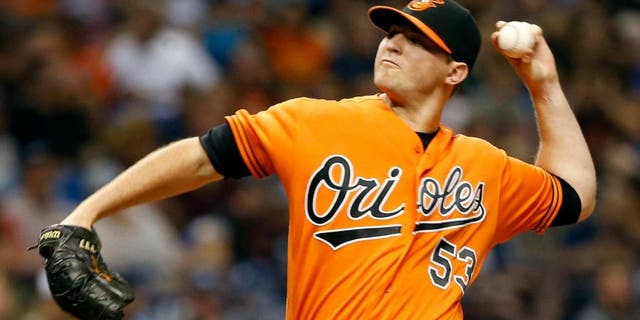 The American League Wild Card Game on Tuesday night was about as good as a playoff baseball game can get, with Edwin Encarnacion hitting a walk-off homer in the bottom of the 11th to give Toronto a 5-2 victory over the Baltimore Orioles and sending the Blue Jays to the AL Division Series.
All anyone wanted to talk about following the game, though, was Buck Showalter's curious decision not to use closer Zach Britton and instead let Encarnacion end Baltimore's season against Ubaldo Jimenez.
Britton had a 0.54 ERA in 67 innings this season and has been so good that he will get a lot of love in the AL Cy Young voting. And yet, of the six different relievers Showalter used against the Blue Jays, he wasn't one of them. Showalter said Britton was perfectly healthy and ready to go, he just decided differently.
"There's so many different things that go on," Showalter said. "You can use Zach Britton in the seventh and eighth inning and not have anybody to pitch the last inning. So there's a lot of risk taken every inning, every pitch. You take that on when you get in this format."
If Jimenez gets out of the inning, nobody would be second-guessing Showalter, but he didn't and so what we're left with is a frustrated Britton having to answer after the game why he didn't pitch. Of course, he had no idea.
"It was just frustrating having to sit there watching that and not being able to pitch," Britton said. "It's frustrating watching the guys battle ahead of you. You want to go in there, and do the same. But it's not my call. It's not my job to put me in the game. That's Buck's call ...
"I was expecting to come in certain situations. Maybe if there's an opportunity for a double-play ball in a big situation, whether or not we were ahead, behind, or whatever.''
Even Jimenez himself was stunned that he was pitching the 11th inning and not Britton.
"Yeah, of course -- he's our best pitcher. And couldn't get into the game.''