Orb Wins Kentucky Derby With Help From Dominican Jockey Joel Rosario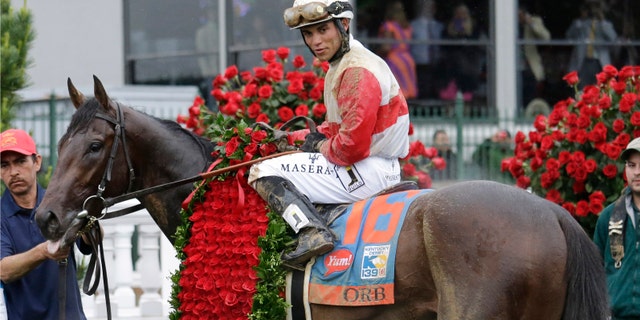 Dominican jockey Joel Rosario was ready to maximize the opportunity aboard Orb that John Velazquez passed on in the Kentucky Derby.
Aboard a horse that liked the muck Saturday at Churchill Downs, the jockey rode Orb down the outside to victory, giving himself and trainer Shug McGaughey their first Derby wins.
Rosario showed a bit more joy than the laid-back McGaughey for many reasons, the most obvious being achieving his dream aboard the horse he rode five times with two wins before Velazquez took the reins for back-to-back stakes wins that made Orb a Derby favorite. Prior commitments kept Rosario from riding Orb in both races.
Velazquez chose to return to Verrazano - the horse he guided to a 4-0 record entering the Derby - and ended up 13 spots behind Rosario and Orb, who earned his fifth straight win by 2 1/2 lengths. Not a bad reunion between horse and rider.
"After passing the three-eighths pole, I knew it was time to move and I can see he was catching horses really quick," said Rosario, whose Derby victory follows his March 30 win in the $10 million Dubai World Cup aboard 2011 Derby champion Animal Kingdom.
"I just knew with his speed, he was just keeping going and keeping going and I thought, 'We're looking good.' ... To win the Dubai World Cup and the Kentucky Derby in the same year, you can't believe how good it feels."
McGaughey probably has a good idea after finally winning the Derby in his seventh try and his first attempt since 2002. Especially because he switched from Rosario to Velazquez for the Fountain of Youth Stakes in February and then the Florida Derby.
While Velazquez rode Orb to wins in both races - the latter coming on the same day that Rosario was guiding Animal Kingdom to victory in Dubai - McGaughey acknowledged Saturday that there was never a doubt who he wanted aboard the horse for the Derby. After Velazquez went to ride Verrazano for trainer Todd Pletcher, with whom he has a long working relationship, the mount reopened for Rosario.
McGaughey felt even better about Orb's prospects after several impressive workouts leading up to the Derby and the apparent bond between the horse and Rosario, who started his hot streak with wins at Aqueduct and Gulfstream.
"I've been tickled with the decision ever since (agent) Ron (Anderson) and I put it back together," McGaughey said, "because I knew how well Joel was doing and I knew how well he had ridden before. He knew the horse, and whenever you can get with somebody who's on a roll like he is, you've got to feel pretty good."
No doubt, Rosario is about as hot as Orb at the moment.
The Latino has won 128 of 514 starts this year (25 percent) with 83 second-place runs and 80 show finishes. Rosario just finished a record spring run at Keeneland over in Lexington with 38 wins and opened Churchill Downs' spring meet with five more winners a week ago.
He won Churchill's first race Saturday on Glamour Puss before saddling aboard Orb, whose awkward start left him behind the leaders before he settled inside by the first turn. Rosario angled him out after six furlongs and then got six wide at the 3/8-mile mark before plucking off the leaders from the outside down the stretch.
"As soon as I passed the last horse," Rosario said, "sometimes he likes to pull himself a little bit and kind of get after him a little bit, and he was going along well. It all worked out good."
In the clear as he approached the wire, Orb appeared to be in cruise control mode as he crossed the line. He continually pumped his first and was all smiles as he reveled in his dream come true.
Based on reporting by The Associated Press.
Follow us on twitter.com/foxnewslatino
Like us at facebook.com/foxnewslatino